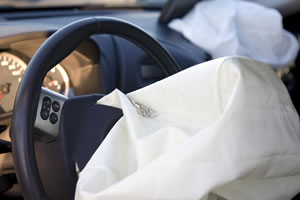 With 34 million vehicles on the recall list for defective Takata airbags, the Japanese manufacturer is struggling to find a solution to its massive problem.
In prepared testimony for a Tuesday hearing before Congress, Takata stated that many of the vehicles that have already been repaired will need their airbags replaced again because the replacement airbag uses the same batwing inflator that can cause the airbag to violently burst apart.
Have you or a loved one been injured by a defective airbag? Call our Takata airbag recall lawyers at 1 (855) 722-2552 for a free consultation. You may be entitled to compensation for your injuries and losses.
Although the root cause of the explosive airbags has not yet been identified, several investigations show that a batwing inflator is linked to the defect and has been tied to most of the dozens of serious injuries and all six deaths tied to the airbags.
In the prepared testimony for Congress, Takata executives plan to tell the panel that they will stop producing the batwing inflators, however, they have not specified when they will make the transition to a safer inflator or how long that move will take.
Takata does not believe that the newly replaced airbags pose an immediate threat to drivers because the issue seems to develop over time. They do plan to replace the replacements in the last phase of the recall and consumers are encouraged to check nhtsa.gov on a regular basis, even if their vehicle has been fixed.
The Takata airbag recall has quickly ballooned into not only the largest auto recall in U.S. history, but also the most complex.
If you have been injured by one of these defective airbags, our experienced personal injury attorneys can guide you through the process of filing a claim and will make sure that you receive the compensation you deserve for your injuries.
Call 1 (855) 722-2552 or complete a Free Case Evaluation form.