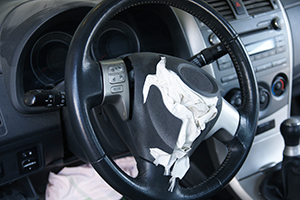 A Texas teen and a Florida woman have both died of injuries caused by exploding Takata airbag inflators. These recent deaths are the 10th and 11th fatalities linked to the faulty Takata airbags, the subject of the nation's largest automotive recall, which is currently ongoing.
On March 31st, a 17-year-old high school student in Fort Bend County, Texas, rear-ended an SUV while driving her 2002 Honda Civic. Upon impact, the airbag deployed, sending shrapnel into her neck and carotid artery. She was pronounced dead at the accident scene.
Honda stated that several recall notices had been sent to the vehicle's owner by mail, but the owners maintained that they had not received them, which is repairs had not been performed.
Earlier this month, a Florida woman succumbed to injuries sustained in a 2014 crash. When her 2001 Honda Civic collided with an SUV, injuries caused by an exploding Takata airbag left her quadriplegic.
The accident took place only four days before the first Takata airbag recalls were announced, which affected Honda vehicle models in California and Florida.
A Push for Repairs
Nearly 24 million automobiles manufactured by 14 automakers have been recalled due to defective Takata airbags so far.
In March, the National Highway Traffic Safety Administration (NHTSA) reported that over 7.5 million faulty airbag inflators have been repaired, accounting for roughly a third of all recalled vehicles as of December 2015. Of those vehicles, Honda had the highest repair completion rate of all manufacturers, with 54 percent.
The NHTSA is pressuring automakers to increase their efforts to locate and notify owners of affected vehicles. The agency demands that a 100 percent completion rate be met.
If you have been injured or lost a loved one in an accident involving faulty Takata airbags or another defective product, contact the class action lawyers at Gordon & Partners for help recovering the compensation you deserve.
Call 1 (855) 722-2552 or complete our contact form to request a free case evaluation now.