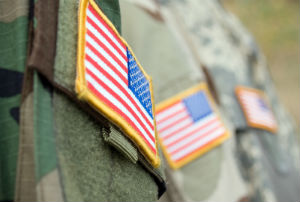 Those who served in the armed forces and suffered an injury, whether physical or mental, may be eligible to receive veterans' disability benefits to help make up for lost working time or other expenses associated with your condition.
Eligibility
In order to qualify for benefits, there are a number of qualifications that must be met. Your disability must have occurred while in:
Active duty for the Uniformed Services
Active duty for training
Inactive duty for training
Additionally, the veteran must not have received a dishonorable discharge and must be at least 10 percent disabled as a result of an injury or illness that either occurred while serving or was aggravated by his or her service.
If you were injured in training while on inactive duty, your disability must be a direct result of an injury, stroke or heart attack.
Degree of Disability
The U.S. Department of Veterans Affairs (VA) will rate your level of disability on a graduated scale from 10 percent to 100 percent in order to determine the amount of compensation you are eligible for. Those with a 10 percent disability rating will be eligible for less compensation than those with a 70 percent disability rating.
A veteran may also qualify for disabilities that are secondary or related to those that were acquired during his or her service, even though they may develop years after service.
A veteran may also be able to get benefits for his or her dependents if the veteran is at least 30 percent disabled.
Evidence
As with most types of benefit programs, applicants must provide medical evidence and proof of their disability. In order to qualify for veterans' disability, applicants must provide both:
Medical evidence of the disability or illness
Medical records with evidence of the relationship between your disability and an event, illness or injury that occurred during your service
Presumed Disabilities
Certain populations of veterans will automatically qualify for benefits without having to provide direct evidence. This is because some veterans are presumed to have certain diseases based on their service.
Former prisoners of war
Veterans who were exposed to mustard gas, Lewisite or ionizing radiation
Veterans who served in the Gulf War in Southwest Asia
Veterans who were exposed to certain herbicides
Veterans with chronic diseases that become apparent during a set amount of time after discharge
If you or someone you love is considering filing for veterans' disability, it is in your best interest to hire an experienced veterans' disability lawyer who is familiar with the often complex process. Our attorneys can guide you through the process and help you put together a compelling claim.
Call 1 (855) 722-2552 for a free, no obligation consultation.