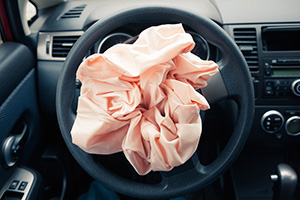 A collision in June between a deer and a Volkswagen (VW) SUV where a side air bag inflated too forcefully has prompted a federal investigation by the National Highway Traffic Safety Administration (NHTSA) and the Justice Department.
Air bags made by Takata Corp. of Japan are in question as safety concerns are mounting.
Near St. Louis, the June 7th crash involved the left side air bag inflating and blowing apart a metal canister in a 2015 Volkswagen Tiguan. Takata had stated that the initial issue with its airbags only occurred in older designs and passenger and front air bags. The June 7th crash is significant because it is the first incident reported in a side air bag and in a VW with a newer type of Takata air bag.
Mark Gillies, VW spokesman, said there have been no other incidents of air bag inflators rupturing in VW vehicles. He also did not know how long VW has used Takata air bags or how many VW vehicles have Takata air bags.
Takata released a statement saying they are investigating the malfunction cause and think it is unrelated to previous recalls.
Ammonium nitrate is used in Takata air bags. It creates a little explosion and inflates air bags quickly. However, when the chemical is exposed to airborne moisture, it can become unstable and cause the metal container designed to contain the explosion to blow apart.
The NHTSA sent orders to Takata and VW to obtain information about the crash and air bag tests. All air bag systems made with ammonium nitrate are in question. The defective airbags have led to a record-breaking recall as well as injuries and deaths worldwide.
Contact Gordon & Partners today at 1 (855) 722-2552 or fill out the Free Case Evaluation form online to schedule your free consultation.