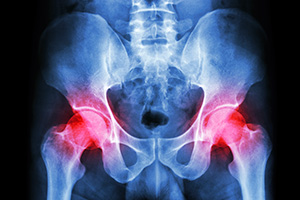 If you or a loved one suffered metal poisoning, bone fractures, or required revision surgery after receiving a Stryker hip implant, you may be eligible to pursue compensation for your pain and suffering.
For a free review of your claim, call 1 (855) 722-2552 or fill out the contact form to your right.
Below are some of the most frequently asked questions about the Stryker hip implant recall, complications associated with the device, and more.
Q: What are symptoms or injuries associated with Stryker hip implants?
Bone fractures, hip, leg or groin pain, difficulty walking, swelling at or near the hip joint, shattering of the implants, metal poisoning, skin rashes, impaired kidney function, or audible noises with movement (popping, clicking or squeaking). If you experience these symptoms, and required revision surgery, you may be entitled to compensation.
Q: Why were the Stryker hip implants recalled?
A: In 2012, Stryker voluntarily recalled its hip implants after the Food & Drug Administration received more than 60 reports of metallosis, a medical condition involving build-up of metal debris in the soft tissues of the body.
Q: What are common hardships associated with Stryker hip implant revision surgery?
A: Victims of the defective Stryker hip implants have suffered the following hardships:
Lost wages or loss of earning capacity;
Effects on overall mental and physical well-being;
Mental anguish and pain;
Past or future medical expenses caused by the defective Stryker hip replacement implants;
Disfigurement or scarring caused by the defective hip replacement implants.
Q: Can I receive compensation for my injuries?
A: If you or a loved one was seriously injured due to a defective Stryker hip implant or required revision surgery, you may be eligible to collect compensation to recover losses due to current and future medical expenses, the cost of additional surgeries, lost wages, pain and suffering or loss of quality of life.
our attorneys at Gordon & Partners can help you get the compensation you deserve.
Q: Who should be held responsible?
A: In addition to its responsibility to warn consumers of unsafe products, a medical manufacturer, such as Stryker, is obligated to design safe products. When the manufacturer fails to uphold this responsibility, our attorneys believe they should be held accountable for the injuries that their defective products caused.
Q: Should I seek compensation even if Stryker paid for my revision surgery?
A: Shortly after the 2012 recall, Stryker announced it would be reimbursing patients for testing, treatment and revision surgery related to its defective devices. The company did not clarify if it would cover costs related to pain and suffering or wages lost as a result of pain, discomfort and time off for revision surgery.
Gordon & Partners is here to help you receive the compensation you deserve.
If you are a victim of the defective Stryker hip implants, contact an injury lawyer in Stuart at our law firm for a free, no obligation case review.
Call 1 (855) 722-2552 or fill out a contact form.