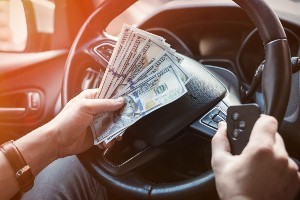 Sometimes the driver who caused a crash may offer the victim cash at the scene to avoid filing a claim. He or she may attempt to resolve the matter on the spot in exchange for the victim not having to contact the police and/or go through the lengthy compensation process with the insurance company.
While it may seem like an easier option and a way to avoid all the hassle, it may not be such a good idea. Accepting a cash offer may not be enough to cover the full cost of your medical expenses, lost income and other related damages. You will likely only get a few hundred or thousand dollars in your pocket.
Our attorneys further discuss what you should do if offered cash from the negligent driver at the crash scene. Find out more regarding your rights and potential legal options during a free initial consultation.
Why Negligent Drivers May Make Cash Offers
If the crash is relatively minor, the negligent driver may be more inclined to try and offer you cash and resolve the matter right then and there. This is usually done for several reasons.
The negligent driver may not want the crash reported because it will go on his or her driving record. If the crash was caused by the other driver speeding or committing another traffic violation, he or she may get a traffic ticket if the police are called to the scene. The cash offer may be a way to avoid a citation.
The negligent driver may make a cash offer to avoid reporting the crash because it will become a part of his or her insurance record. This in turn could increase the other driver's insurance premiums.
Cash may also be offered to avoid potentially paying you more in a legal claim. The negligent driver may not have insurance coverage and wants to avoid getting in trouble with the police.
Is Offering and Accepting Cash Against the Law?
It is not illegal for the negligent driver to make a cash offer or for you to accept the cash offer.
However, most compensation is from filing insurance claims in order to help cover medical treatment and/or vehicle damage. Accepting a cash offer will almost always not cover all of your crash-related damages. The last thing you want to do is to have to pay out-of-pocket costs.
Issues With Accepting a Cash Offer at the Scene
A cash offer made by the negligent driver at the crash scene may be tempting to accept. It may seem like an easier option because you can get immediate compensation instead of waiting to get compensated from an insurance claim. However, accepting a cash offer has several disadvantages.
You May Have Hidden or Delayed Injuries
It is not possible to know all of the injuries you sustained and how serious they may be. Only a qualified doctor will be able to assess the nature and scope of your injuries after a car crash.
You may have hidden or delayed injuries that may require extensive medical treatment. Even if your injury appears to be minor, it may get worse if left untreated or if you do not respond well to treatment.
Your crash-related injuries could result in a longer recovery time and costly medical bills. It is in your best interest to consult with an experienced attorney to help calculate a fair amount for your injuries.
The Extent of Vehicle Damage is Unknown
Neither you nor the negligent driver has any way of knowing the extent of damage done to your car or how much it will cost to make repairs. While you may only see minimal vehicle damage, it could be more significant. There could be hidden frame damage or alignment issues that can quickly add up.
You May Be Eligible for Additional Damages
There may be additional damages you could be eligible for from an insurance claim, like lost income from missing work. Victims may not consider these types of damages right after a car crash.
Florida law allows you to recover both economic and noneconomic damages. For instance, you may be able to seek damages for pain and suffering caused by crash-related injuries. A cash offer at the scene will not account for these damages. Cash offers generally only cover apparent damages.
Reduce Your Ability to File a Claim Later
Accepting a cash offer may reduce your ability to file an insurance claim later.
The negligent driver may make assurances by saying that you can reach out for more money or if you decide to file an insurance claim. The negligent driver may even give you his or her phone number but then not answer your calls or texts when you do reach out.
If you happen to find out the negligent driver's insurance information, the insurance company may not be willing to provide further compensation. They may say that by you accepting the cash offer, the driver has fulfilled his or her legal obligations.
When You Are Obligated to Report a Crash
You and the negligent driver must report the car crash if it results in injury or death, or there is damage to property in excess of $500. You both must remain at the scene until the police arrive.
Although it may not be against the law for the driver who caused the crash to offer you cash for your damages, it is against the law to leave the crash scene under the above circumstances.
See How Gordon & Partners May Be Able to Help
If you have been involved in a car crash, it is important that you reach out to a qualified attorney before accepting a cash offer. Our firm has successfully recovered millions of dollars for our clients.
A consultation with a car crash attorney in West Palm Beach is completely free and confidential. This initial meeting comes with no risk or obligation. Our services are also provided at no upfront cost.