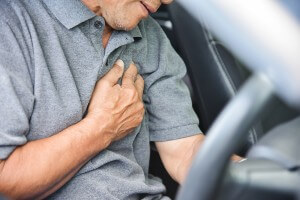 If a driver runs a red light and rear-ends another vehicle, determining fault is pretty straightforward. However, not every accident is caused by negligence. If a driver has a medical emergency, such as a stroke, seizure or heart attack and loses consciousness, liability in these cases may not be clear-cut. Can the at-fault driver be held responsible for damages beyond his or her control?
Our attorneys at Gordon & Partners explain how sudden medical emergencies are legally handled in Florida. Discover more about your rights and legal options that may be available to you during a risk-free consultation. You are not obligated after this meeting to move forward. We charge nothing up front.
The Sudden Emergency Doctrine in Florida
Medical emergencies happen more often than you realize. Under Florida's sudden emergency doctrine, a driver who encounters an unexpected situation out of his or her control cannot be held to the same standard of care as a driver who had time to think through his or her actions.
A defendant claiming a sudden emergency defense must prove each of the following:
He or she became incapacitated or suffered a loss of consciousness
The loss of consciousness or capacity happened before the negligent conduct
The loss of consciousness was sudden
The loss of consciousness was neither foreseen nor foreseeable
An at-fault driver may be relieved from liability when dealt with a sudden medical emergency not created by him or her. For instance, the emergency doctrine could be applied if you were driving on the highway and suddenly had a stroke, blacked out, and hit another car.
However, this defense will not hold up if the at-fault driver had a preexisting medical condition he or she did not take proper care of or chose to ignore because it would impair his or her ability to drive.
For instance, say a driver was a known diabetic and failed to eat before driving. As a result, he or she passed out and caused an accident. Since the driver knew the dangers of not caring for his or her medical condition, he or she could be deemed liable for any harm caused to others.
No Upfront Fees
Ph: 1 (855) 722-2552
An experienced West Palm Beach-based car accident attorney is prepared to help if you were injured in an accident and the at-fault driver is attempting to use this defense.
Understanding the Normal Standard of Care
The law requires individuals to act with a certain amount of care any reasonable person would do in a similar situation. Whether an individual is required to act reasonable will depend on if he or she owed the injured party a duty of care.
For instance, drivers owe a duty to other motorists, passengers and pedestrians to obey traffic laws and drive in a safe and responsible manner. If a driver is recklessly weaving in and out of traffic without using turn signals and sideswipes another car, he or she may be held responsible for any injuries and damages.
Deadline to File a Personal Injury Lawsuit
If your injuries are severe enough and negligence was involved, you may be eligible to file a personal injury lawsuit. It is in your best interest to act as soon as possible to seek compensation. You do not want to risk waiting too long and receiving a court dismissal.
In Florida, the statute of limitation is four years from the date of the accident in most cases. This four-year period could be shortened or extended based on your situation, which is why it is also important to consult with a lawyer right away. He or she can prepare for any potential defenses, including the sudden emergency doctrine.
Reach Out to a Licensed Attorney Today
If you have suffered an injury in an accident involving a medical emergency, Gordon & Partners is here to assist. We have obtained millions of dollars on behalf of our clients since 1993. We are ready to conduct an investigation and gather the evidence to prove fault and build a strong case.
An initial consultation costs nothing and we charge no fees up front to use our legal services. Our firm only receives payment if we help you obtain compensation via a settlement or verdict.