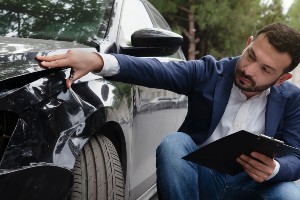 If you or someone you care about has been seriously injured in a crash, you may be eligible to file a lawsuit to pursue full compensation for your losses. In these cases, knowing what caused the accident and establishing liability are very important. This can be a complex process when each party involved has a different version of events. This is where accident reconstruction could be beneficial.
Below, our West Palm Beach car accident attorneys explain how an accident reconstruction expert may help your case. We are prepared to help you take legal action against a negligent driver. An initial consultation is completely free and confidential without any obligation to hire our firm.
What is Accident Reconstruction?
Accident reconstruction is the process of investigating, analyzing, and drawing conclusions about the causes and events that led up to a crash. An in-depth analysis is done to identify contributing factors, including the role of the driver(s), vehicle(s), roadway, traffic, weather conditions, etc.
Additionally, accident reconstruction often includes examining the debris, skid marks, collision points and any other crash damage. The vehicles involved are thoroughly inspected to rule out malfunctioning components, such as tires or brakes. This process can help draw conclusions concerning negligence.
When Do You Need an Accident Reconstructionist?
It may be beneficial to use an accident reconstructionist in the following circumstances:
Fault is not immediately apparent
Parties cannot recall some or all events of the crash
No one witnessed the accident happen
There is conflicting information about the cause of the crash
Serious injuries were sustained requiring hospitalization
Vehicles are severely damaged beyond repair
Parties each have a different version of events
Other important details relevant to the crash are missing
At Gordon & Partners, we work with a number of specialists, including accident reconstruction experts. We are prepared to review your situation and determine whether an accident reconstructionist is necessary. Through accident reconstruction, we may be able to help you obtain greater compensation.
How Can an Accident Reconstruction Expert Help?
To be able to obtain compensation in a lawsuit, you must prove the other party was negligent.
Accident reconstruction experts are specially trained to investigate and determine fault for accidents. They will examine all factors that may be relevant to a crash, such as speed, injuries and damages. This information is then analyzed to determine the cause or causes of the accident.
Investigate the Scene
An accident reconstruction expert is able to do the following:
Develop a reenactment of the crash
Evaluate the scene of the accident
Determine the speed and movement of vehicles
Draw conclusions as to the cause of the accident
Analyze the Findings
Once the scene has been investigated and evidence has been collected, an accident investigation expert will work to analyze and interpret the data found. This analysis includes, but is not limited to:
Identifying actions that could have been taken by either party to avoid the crash and/or reduce the severity of injuries and damages
Analyzing injuries and how the involved parties moved during the accident
Determining any driver errors that caused or contributed to the crash
Creating models or build computer-simulated animations of the accident
Preparing a report and testifying if needed in a trial or to an insurance company
If fault is being disputed, working with a lawyer and using an accident reconstruction expert could be helpful. Insurance companies rarely agree on who caused the crash. The other party and his or her insurer may try to twist the facts and imply that you could have avoided the accident. They may try to shift blame by claiming that you were negligent. A licensed accident reconstruction expert on your side can help uncover the facts of the crash so that you are not assigned more fault, if any, for the crash.
Need Legal Help After a Car Accident? Call Us Today
If you have sustained serious injuries in a car accident, we recommend speaking with an experienced lawyer at our firm as soon as possible. We are ready to answer any questions you may have about the legal process and discuss your eligibility for compensation in a car accident lawsuit.
You are under no obligation to utilize our services after meeting with a member of our legal team and you pay nothing up front. We only receive payment if we successfully help you obtain compensation.