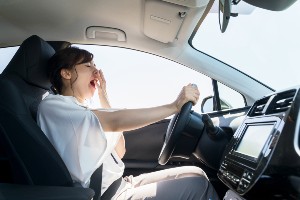 Most people at some point in their lives have driven while feeling very tired. However, few realize just how risky this can be. Drowsy driving can be as dangerous as driving drunk. Extreme drowsiness can cause drivers to fall asleep at the wheel, leading to serious accidents with catastrophic injuries.
Learn more about the dangers of driving while drowsy, who may be liable for damages, and how to protect yourself. If you have been harmed in a preventable accident due to negligence, Gordon & Partners is ready to review your situation and discuss your available legal options in a free consultation.
How Does Drowsiness Affect One's Driving Abilities?
Drowsiness can have a significant impact on a driver's attention, judgment, decision-making, vigilance, coordination and reaction time. It is not uncommon for drowsy drivers to:
Drift back and forth between lanes of traffic
Have trouble maintaining the right speed limit
Struggle to keep a safe distance from other vehicles
Swerve into incoming traffic or veer off the road
Be unable to respond quickly to avoid obstacles
Driving while drowsy is a factor in many serious and fatal accidents. A fatigued driver with a slowed response to stopped traffic can cause a fender-bender if he or she rear-ends the vehicle in front.
A driver can cause serious harm to themselves and nearby property if he or she falls asleep, drives off the road, and hits a fixed object, such as a tree or building. Drowsy drivers can also cause multi-car accidents when they fall asleep and crash into another vehicle at full speed.
Who is More Likely to Fall Asleep at the Wheel?
Anyone who is tired, overworked or exhausted is at risk of driving while drowsy. However, there are certain people who are more likely to fall asleep at the wheel and cause an accident, such as:
Commercial drivers who spend long hours on the road and may be expected to meet strict deadlines regardless of how tired they are
Shift workers who work odd hours, often late at night or overnight, with irregular sleep schedules
People who do not get enough sleep on a regular basis or have poor sleeping habits
People with undiagnosed or untreated sleep disorders, such as sleep apnea
People on medications for pain, insomnia or anxiety may experience sudden sleepiness or drowsiness while driving
Drowsy driving is dangerous but entirely preventable. It is important to only drive when you are feeling well-rested. If your eyes start to get heavy, you are frequently yawning or you are having difficulty concentrating on the road, take as many breaks as necessary.
You can plan ahead to manage fatigue and avoid an accident by:
Sharing the driving responsibilities with someone else
Refraining from taking medications that cause drowsiness
Planning multiple stops on a long trip for food and rest
Establishing Liability in the Event of an Accident
All drivers have an obligation to maintain control of their vehicle by being alert, paying attention and being able to stop quickly. If a driver falls asleep at the wheel and causes you harm in an accident, you may have the right to take legal action against him or her to recover damages.
Generally, liability will depend on whether it can be proven that the other driver was negligent. This is where having an experienced lawyer by your side may be beneficial. He or she can help you establish:
The other driver owed you a duty to not drive while drowsy
The driver breached this duty by falling asleep at the wheel
You were injured in the accident caused by a drowsy driver
You suffered damages because of the drowsy driving accident
A West Palm Beach vehicle accident attorney at our firm knows what it takes to prove negligence in many different car accident cases, including those involving fatigued drivers. He or she is ready to help you gather supportive evidence to help build a strong case on your behalf.
Witnesses may have seen that the driver was asleep or nodded off at the time of the accident
Medical records may show that the driver was on medication when the accident happened
Lack of skid marks at the scene may indicate that the driver failed to hit the brakes or veered out of his or her lane before the accident
Cellphone records or data logs may show that the driver traveled a long distance before the accident and perhaps was tired or sleep-deprived
Reach Out for Experienced Legal Help Today
If you or someone you care about has been injured in an accident caused by a fatigued driver, our legal team is ready to help. We have successfully recovered millions in compensation for our clients.
An initial consultation is 100 percent free without any obligations. If you have a valid case, we charge zero upfront fees to retain our services. There are also no fees while we work on a case.