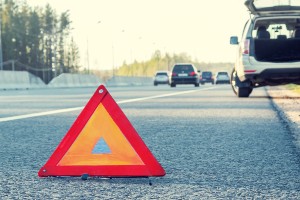 When an emergency happens behind the wheel, drivers may have to pull over on the side of the road. Law enforcement, first responders and tow truck drivers are often seen rendering aid to a stopped or disabled vehicle. However, when drivers passing by are careless, this can put anyone walking, standing or sitting inside of their vehicle on the side of the road in serious danger.
To help minimize the risk of an accident, the Florida Department of Highway Safety and Motor Vehicles (FLHSMV) requires that all drivers follow the Move Over law, created to protect utility, sanitation, law enforcement, emergency and wrecking service workers traveling along the state's roadways.
Below, our attorneys discuss this law in greater detail, including the consequences for violators, and potential legal options if you are injured by a negligent driver while parked on the shoulder. Our initial consultations are free of charge without any obligation to move forward.
Do You Have a Case? Call 1 (855) 722-2552
What is Florida's Move Over Law?
Florida's Move Over law is intended to protect stopped emergency and service vehicles. It allows workers the adequate space needed to do their jobs and helps to keep them from harm's way. Unfortunately, there are many fatal accidents each year involving vehicles parked on the shoulder. In 2019, there were 182 accidents.
If a vehicle is on the side of the road and flashing its emergency lights, a driver must move over a lane as soon as it is safe to do so. If a driver cannot move over in time or is traveling on a two-lane roadway, he or she must slow down to a speed that is 20 miles per hour less than the posted speed limit. On a two-lane roadway, drivers must reduce their speed to 5 miles per hour if the posted speed limit is 20 miles per hour or less.
On a multi-lane roadway, drivers must vacate the lane closest to the stopped emergency or service vehicle and signal when changing lanes. A driver must also slow down to 20 miles per hour below the speed limit if he or she cannot move over and be ready to allow other drivers to move into the lane.
Penalties for Drivers In Violation of This Law
When a driver fails to move over, they are putting themselves and everyone else on the road at risk.
Violating this law can result in fines of $150 or greater and three demerit points on your driving record. In 2019, over 20,000 citations were issued for drivers who failed to move over in Florida.
How to Safely Move Over When Approaching Parked Vehicles
All drivers have a responsibility to be aware of their surroundings and avoid any distractions.
It is important to always keep your eyes on the road for law enforcement, utility, sanitation, emergency or any other service vehicles parked on the side of the road. Use your turn signal so that other drivers who may not have yet seen the stopped vehicle are aware of your intentions.
No Upfront Fees
Ph: 1 (855) 722-2552
Remember that those helping a vehicle parked on the shoulder may have already helped someone else that was involved in an accident.
If you happen to be the one in an emergency situation, be sure to use your hazard lights, check for traffic before pulling over, park as far to the side as possible, remain alert for passing drivers and stay in your vehicle if you can until help has arrived.
Potential Legal Options for Car Accident Victims
A West Palm beach car accident lawyer from our firm is ready to help hold a negligent driver liable for any injuries and damages he or she caused you in an accident.
Since Florida is a no-fault insurance state, you generally need to pursue a claim under your own personal injury protection coverage to obtain compensation for your medical bills, regardless of who is at fault.
However, if your injuries are severe enough, you may be eligible to step outside of the no-fault system and pursue a claim directly against the at-fault driver. In most cases, you typically have three years from the date of the accident to file. Otherwise, it could result in a court dismissal.
Should a settlement not be reached, we are also ready to go to court if it is absolutely necessary.
We Are Ready to Take Your Call Anytime
Have you been injured by a negligent driver? Gordon & Partners is here to offer assistance. You may be able to pursue significant compensation. There is no cost to review your situation and discuss your rights during a free, no-obligation consultation. We have recovered millions in compensation for our clients.
Gordon & Partners – For The Injued. Ph: 1 (855) 722-2552