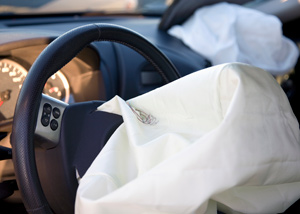 When talking about airbag injuries, most people assume that an airbag has injured a driver or passenger after it has been deployed in an accident.
While this is true in many cases, there are also a considerable number of airbag injuries that result from the airbag failing to deploy or deploying in an unexpected manner.
In fact, did you know that according to the Florida Department of Highway Safety and Motor Vehicles more than 24,000 collisions led to an airbag deployment?
Have you or someone you love suffered an injury that was caused by a defective airbag or due to the force of the airbag as it inflated?
At the law offices of Gordon & Partners, our team of highly trained auto accident lawyers have detailed knowledge of the current vehicle recalls and can help review the details of your claim to determine if you have grounds to file a damages lawsuit.
If so, you may be eligible to receive compensation for any losses or injuries that you may have sustained as a result of the airbag injury.
To learn more about your legal options, call us today at 1 (855) 722-2552 or simply fill out our free case evaluation form and we will contact you shortly after we receive your inquiry.
We proudly offer airbag injury victims free consultations and you won't owe us any fees or costs if we are unable to recover financial compensation for you.
Common Types of Passenger Vehicle Airbags
Many vehicle safety devices have been created over the years, from safer vehicle structures to seatbelts to airbags. Since the introduction of airbags into the market back in the 1970s the safety equipment has become standard in most vehicles and some have various airbags to protect occupants.
Some types of airbags include:
Side Torso
Knee
Rear-Curtain
Seatbelt
Although each airbag was specifically created to protect occupants from the many hazards that arise during a collision, airbags themselves can actually lead to injury.
Common Airbag Injuries
The National Highway Traffic Safety Administration (NHTSA) analyzed airbag-related fatalities and injuries in 2007. Between 1990 and 2007 there were more than 230 reported airbag fatalities involving children and adults. The majority of those fatally injured were children who were not situated in rear-facing child safety seats. The number of fatalities peaked between 1996 and 2001.
Some common airbag injuries include:
Rashes
Difficulty Breathing
Skull Fracture
Brain Injuries
Hematoma/Hemorrhaging
Eye Injuries
Internal Organ Bruising
Concussion
Many individuals will suffer from rashes and difficulty breathing due to the chemicals that are expelled during airbag deployment. Although the chemicals have changed over time, persons in older vehicles may be exposed to more dangerous chemicals.
Airbag Injury? Contact our Airbag injury attorneys
Although airbags are meant to protect us during a car accident, many persons find that they become injured due to the high impact of the bag's deployment. If you or a loved one is seeking free legal advice after suffering from airbag injuries, our attorneys are here to help.
At the law offices of Gordon & Partners we are committed to fighting for the rights of the injured to ensure that they receive the MAXIMUM amount of compensation they deserve. Our personal injury lawyer s have more than 150 years of combined legal experience and have the knowledge and resources needed to build a strong case for you.
We have offices located throughout Florida and are pleased to serve the following areas:
Broward County
Martin County
Palm Beach County
To find out how we may be able to help you with your auto accident claim, contact us at 1 (855) 722-2552. Your initial case consultation is FREE and our attorneys work on a contingency basis which means that we don't get paid unless we are able to recover compensation for you.
You can also contact us online by filling out the 'FREE CASE REVIEW' form at the top right-corner of this page – your information will remain confidential.