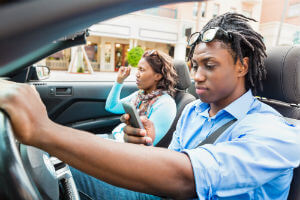 If you were injured in a motor vehicle accident as a passenger, it is important to understand your rights.
Whether you were injured because the driver of the vehicle you were traveling in was negligent or because of the recklessness of another motorist, you may be able entitled to compensation for your medical expenses, lost wages, and other damages you have suffered.
Gordon & Partners's experienced auto accident attorneys in West Palm Beach will protect your legal rights as a passenger if you have been injured in an accident. We will provide you with a free, no obligation consultation to help you determine if you can pursue legal action against the at-fault party. If we find that you have a case, we will pursue the maximum compensation on your behalf.
Driver Responsibility
In Florida, drivers have a duty to exercise reasonable care when operating a motor vehicle to avoid causing harm passengers, pedestrians and occupants of other vehicles.
If a driver breaches this duty and injures a passenger occupying his or her vehicle, the passenger may be entitled to file a claim against the negligent driver to recover compensation.
Passenger Responsibility
Passengers are also required to exercise reasonable and ordinary care. Because of this, a passenger could potentially be partially responsible for causing his or her own injures during an accident. This could include situations where the passenger:
Refused to wear a seat belt
Rode in a vehicle with a driver whom he or she knew was impaired
Told the driver a roadway was clear when it was not
Intentionally distracted the driver
In these situations, the standard of comparative negligence may apply and could limit the compensation the passenger may be entitled.
Under comparative negligence, the compensation you are entitled to is reduced by your own degree of fault in the accident. This means if you are filing a $10,000 claim and are found to be 40 percent at fault, your claim's reward will be reduced to $6,000.
Getting Compensation as a Passenger
Florida is a no-fault state, which means drivers and vehicle owners are legally required to carry personal injury protection (PIP) insurance, according to Fla. Stat. § 627.736. This covers injuries that policy holders sustain regardless of who was at fault. In Florida, the minimum PIP coverage drivers and vehicle owners are required to carry is $10,000.
If a passenger is injured in an accident, he or she may be able to recover compensation for medical bills from his or her own PIP coverage. If the passenger does not own a vehicle and therefore does not have PIP insurance, he or she may be covered under the policy of:
The owner of the vehicle the passenger was riding in
Family members in the passenger's household
The at-fault driver
For injuries that extend beyond the $10,000 threshold, it may be in the passenger's best interest to file a lawsuit against the at-fault driver. However, in order to file a lawsuit, the passenger must be able to prove the at-fault driver was negligent and must have suffered significant injuries, such as:
Significant and permanent disfigurement
Permanent loss of a bodily function
Permanent injury
Significant and permanent scarring
Death
It is best to consult an experienced attorney if you have been injured in an accident. We can advise you of your options for recovering compensation for your injuries.
Accidents in Taxi Cabs, Uber or Lyft
Passengers in taxi cabs and ride-sharing operations have the same rights to recover compensation as those injured in private vehicles. In many situations, the person's own PIP insurance may cover his or her injuries. However, for-hire rides are also required to carry insurance.
Florida law requires that taxi companies maintain personal injury liability insurance to protect passengers in case of an accident. The minimum limits for these policies are $125,000/$250,000/$50,000, according to Fla. Stat. § 324.032.
Uber, Lyft and other ride-share drivers are typically covered by their own insurance. However, recovering compensation through their policies can be complicated. For this reason, Uber and Lyft have liability policies that will kick in if the at-fault driver's insurance denies coverage or is not enough to cover your expenses.
If your injuries are severe and you are not able to recover the compensation you need through insurance, you may have options for filing a lawsuit. However, this is extremely complicated in situations involving Uber or Lyft. Our attorneys can explain your options in this type of situation.
If you were injured in a car accident as a passenger, contact Gordon & Partners to learn more about your rights.
Our seasoned auto accident attorneys have helped numerous victims recover compensation for their injuries caused by another's negligence. We can help guide you through the process of filing an accident claim so that you can focus on your recovery.
Do not hesitate to contact us for a free, no obligation consultation to find out if you are entitled to compensation for your injury. All of our services are provided on a contingency fee basis, which means you only have to pay us if we recover damages for your claim.
Call 1 (855) 722-2552 to schedule a free consultation.