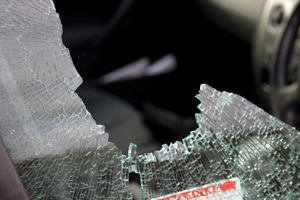 One of the most overlooked risks—but a risk that often results in painful injury in a auto accident—is that of broken glass.
Not only does broken glass pose a threat to drivers and any passengers that are involved in a collision, but flying pieces of glass can also be dangerous to anyone outside of the vehicle. In fact, broken glass that is flying through the air at high speeds can injure and potentially kill an innocent bystander in an instant.
Have you or someone that you love suffered a serious personal injury after being cut by glass in an auto accident that was caused by another motorist?
Did you know that you or the injury victim may be eligible to file a lawsuit to recover compensation for damages related to the wreck?
To begin exploring your legal options, contact the qualified personal injury lawyer s at the law offices of Gordon & Partners today by completing the Free Case Evaluation form to the right or calling us today at 1 (855) 722-2552.
We proudly offer complimentary consultations and you won't owe us any fees or costs if we are unable to recover financial compensation for you.
Common Broken Glass Injuries
Even when two vehicles collide at relatively low speeds, the force that's generated by the collision can be massive. Newer vehicles come equipped with windshields specifically designed to avoid shattering however, these designs do not completely prevent the shattering of glass in a high-velocity accident.
Furthermore, most side and rear windows are not built to withstand the force of impact in a crash, meaning that broken shards of glass can be sent flying in every direction in the event of an accident.
Passengers inside a vehicle are completely vulnerable to and defenseless to broken glass injuries. Some of these injuries can be very severe and cause extreme pain in the injured auto accident victim. Depending on the circumstances of the crash, there are many different types of broken glass injuries that can result.
Some of the most common injuries related to broken glass include surface-level cuts, deep-level lacerations, shock, severed limbs and bleeding to death.
Surface-Level Cuts
Possibly the least severe broken glass injury suffered in Florida car accidents are surface-level cuts. These injuries simply tear or cut the skin and do not penetrate deeper into the body's tissue. Typically, surface-level cuts require minimal treatment, including cleaning and possible stitches to stop the bleeding.
Deep-Level Lacerations
When sharp pieces of glass penetrate deep inside the skin, deep-level lacerations can result. These types of injuries can include cuts and wounds that penetrate through the skin, the underlying skin tissue and muscle fibers, all the way through to the bone. Deep-level lacerations are very dangerous for a variety of reasons, including permanent disfigurement.
Shock
When an individual is involved in an auto accident, it is possible that they undergo some psychological trauma. Managing this trauma only becomes more difficult when they find that they are bleeding profusely from a broken glass injury. The emotional reaction to a broken glass injury can develop into shock. If not handled immediately and aggressively, shock can be fatal.
Severed Limbs
If a shard of broken glass is large enough or sharp enough to penetrate the body almost all the way through, a severed limb can result. If even one shard of glass penetrates the body at an especially vulnerable location, it could lead to a severed artery which requires the affected limb to be amputated.
Bleeding to Death
If a shard of broken glass hits the arteries in the neck or any other part of the body that is especially vulnerable, an injury victim can bleed to death in a matter of minutes if medical help does not arrive quickly.
Hurt In A Crash? Contact Our Experienced Broken Glass injury attorneys
An auto accident takes only seconds to happen, but the effects can last a life-time. A car crash can bring unwanted chaos into your life. Instead of worrying about how you will be able to afford the expenses you incurred from the crash, you should be focused on rehabilitating from your injuries.
At Gordon & Partners, our broken glass injury lawyers have the skills and resources necessary to expertly litigate a Florida injury claim. Let our experienced auto accident attorneys fight to secure your financial stability during this difficult time by holding the at-fault parties accountable for your condition.
With offices in Palm Beach Gardens, Stuart and Pembroke Pines, we are available to fight for the rights of any Florida resident who has suffered harm through the actions of another person or entity, whether through negligence or malicious intent.
For more information on the legal rights which may be available to broken glass injury victims and their families or to schedule a confidential, no-obligation consultation with a member of our team of legal professionals, call us today at 1 (855) 722-2552.
Alternatively, complete the Free Case Evaluation form on this page and we will contact you shortly.