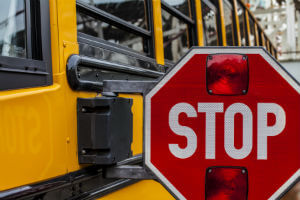 The start of school is an exciting time for both parents and students alike. However, it can also be a dangerous time, as more people are hitting the road. Traveling to and from school can be a safety hazard that parents should consider as they get ready for the new school year. Teaching children (and motorists) to be safe around school buses and school zones is an important part of going back to school.
Accidents with a school bus or as a pedestrian can lead to legal liability. You may be able to file a personal injury claim to receive compensation for your injuries and related damages.
Staying Safe While Traveling to and from School
Parents can take a few extra steps to help their children stay safe while traveling.
Coordinate the trip – Be sure you know how your child is getting to school or other activities and how he or she is getting home. If your child walks or rides a bike to school, take time to plan his or her route ahead of time so you know where he or she is at all times.
Make sure your child has the proper safety equipment – If your child rides a bike to school, make sure he or she always wears a helmet and rides in the bike lane or with the flow of traffic. He or she should also wear bright colors with reflective material.
New driver safety – If your student is driving on his or her own this year, be sure that he or she knows basic safety measures while in the car—never text and drive, as it could lead to a serious auto accident . Your new driver should avoid having passengers until he or she is more accustomed to the demands of the road.
Pedestrian Safety Tips
Students who choose to walk to school must ensure they are well-prepared on how to safely walk to and from school. Teach your child these pedestrian rules:
Stay on the sidewalk at all times
If a sidewalk is not available, walk on the shoulder of the left side of the road facing traffic
Only cross the street at marked crosswalks and obey the traffic signals for crosswalks that indicate when to walk and when not to walk
Do not run into the street for any reason
Only cross through intersections using the designated crosswalks
Look left, right and left again before crossing a street
Do not wear headphones or use a cellphone while walking
School Bus Safety Tips
The most dangerous part of a school bus is getting on and off the vehicle. In fact, getting on and off accounts for three times as many deaths as the ride itself. Children should be sure to keep an eye out for surrounding traffic and avoid situations where they are out of the driver's site.
Teach children to:
Always look both ways for traffic before crossing the street
Get to the bus stop early to avoid having to rush
Try to walk to and from the bus stop with a friend or family member if possible
Never walk behind a bus
Wait for the school bus in a safe place away from the road
Do not board the bus until it has come to a complete stop and the driver signals it is safe to board
Pick a seat and stay there – never move around a bus
Back to School Traffic Safety Laws
In addition to teaching your children important back to school safety tips, parents and other motorists should also be reminded of the traffic laws that apply to school zones and school busses.
Speeding in a School Zone
In accordance with Florida law, all school zones are marked by signs telling drivers the speed limit for the area.
Some signs provide a timeframe during which the school zone is active, while others simply utilize a flashing light. Either way, it is important that motorists follow the posted speed limit, which could be 15 or 20 mph. If they do not, they could face a hefty fine.
If a motorist is caught going 40 mph in a 20-mph school zone, her or she could face a minimum fine of $175. If the school zone was active, the fine would increase to $350.
It is vital that all motorists obey the speed limit in school zones, not just because they could face a fine, but also because they could potentially injure a child, as these areas are busy with children moving in and around the school.
Passing a School Bus
There is only one situation in which it is legal for a vehicle to pass a stopped school bus: If there is a five-foot barrier or unpaved median between the vehicle and the stopped bus.
In all other situations, drivers must come to a complete stop if a school bus is stopped with its lights flashing and its stop sign extended. This applies whether a vehicle is approaching from in front of or behind the bus.
State records reveal that 200 drivers were cited for failing to stop or passing a stopped bus in Palm Beach County last year. Statewide, more than 2,400 citations were issued.
In a single-day survey conducted by the Florida Department of Education in 2015, 11,000 instances were reported in which vehicles improperly passed school busses. Of those, 371 vehicles passed on the right side of the bus, which is where children enter and exit the bus.
Illegally passing a vehicle on the left could result in a $100 fine, while passing on the right could cost $200.
Stopping for Pedestrians
Motorists will also need to be aware of an increase in pedestrians with the start of school. Florida law outlines several pedestrian regulations that detail when pedestrians have the right of way and motorists must stop:
If a pedestrian is in a crosswalk, all vehicles must yield the right of way to the pedestrian.
At intersections with a control signal, vehicles must stop prior to entering the crosswalk and must remain stopped while the pedestrian is in the crosswalk.
A vehicle cannot pass another vehicle that is stopped for a pedestrian in a crosswalk.
Contact a Reputable Auto Accident Attorney
If your child or someone you love has been injured because of the negligent actions of another, do not hesitate to contact our trusted auto accident attorneys . Since 1993 we have been representing those who have been injured in Palm Beach County, we can help you determine your legal options and fight for the compensation you deserve.
Out attorneys work on a contingency fee basis, which means we do not charge upfront fees for our services. We only charge a fee if we recover compensation for you.
Call 1 (855) 722-2552 to schedule a free consultation today.