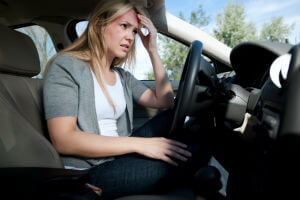 Approximately 2.8 million people every year sustain a traumatic brain injury nationwide, according to the Centers for Disease Control and Prevention. While many brain injuries are caused by falls, sports-related accidents and violent attacks, car accidents are also one of the top leading causes of brain injuries in the U.S., accounting for 14 percent of these injuries.
March is Brain Injury Awareness Month and this year's theme is "Change Your Mind." For more than thirty years, the Brain Injury Association of America (BIAA) has helped raise public awareness of brain injuries and how they can happen to anyone. The program also aims to de-stigmatize the condition by providing valuable educational materials, community outreach, and resources to families affected by a brain injury.
The experienced West Palm Beach car accident lawyers at Gordon & Partners have helped many accident victims who have sustained brain injuries due to the negligent conduct of others. We have prepared the following information below to describe this risk and the signs you should look for if you suspect a brain injury.
Car Accidents that Can Result in Brain Injuries
Nearly any type of car accident can result in brain injury, including slow-speed accidents. In a car accident, the head may impact a hard surface, such as the steering wheel, dashboard or car door that can cause a serious injury.
In other situations, the brain may violently jolt back and forth without actually impacting anything in the vehicle, which can still cause a traumatic brain injury. Common types of car accidents that can result in brain injuries include:
Rear-end accidents – This type of crash occurs when a vehicle is hit from behind by another vehicle. The force of the impact may cause your head and neck to be jolted forward and then abruptly snapped back due to the force of the impact. This can cause the brain to strike the skull at a high-speed, which can cause a significant brain injury.
Head-on collisions – This occurs when the front ends of two vehicles traveling in the opposite directions hit each other. The sudden impact can cause your head to be jolted forward, striking the windshield, dashboard or other hard surfaces in the vehicle, resulting in a concussion.
Side impact accidents – In these collisions, a vehicle is hit on the side by another vehicle. The impact may cause you to lose control and spin out. Your head may be violently thrown in the direction of the impact, causing you to strike against the car door and result in an injury.
Types of Brain Injuries
There are several different types of brain injuries a victim can suffer in a car accident, including:
Concussion – A concussion is caused when the brain is traumatized from impact, sudden momentum or movement change.
Contusion – A contusion is a bruise on the brain. Large contusions might have to be surgically removed. It is often caused by a direct impact to the head.
Coup-contrecoup – This condition consists of contusions on both sides of the brain, such as when the force impacting is not so great to cause a contusion at the site of the impact but is strong enough that it moves the brain, causing it to slam into the opposite end of the skull.
Diffuse axonal – This injury type is caused by shaking or a strong rotation of the head, which can cause brain structure to tear. This type of injury occurs because the unmoving brain lags behind the skull's movement. It can include extensive tearing of nerve tissue in the brain.
Signs and Symptoms of a Brain Injury
car accident victims who suffer a brain injury may experience a variety of signs and symptoms, such as:
Persistent headache
Loss of consciousness
Nausea
Memory loss
Sensitivity to light or sound
Blurred vision
Pupil dilation
Fluid in the ears or nose
Fatigue
Seizures
Numbness in the extremities
Problems with balance
Feelings of confusion
Difficulty concentrating or thinking
Slowed thinking or response times
Difficulty handling emotions
Get Legal Help If You Have Suffered a Brain Injury
Brain injuries can often cause long-term or permanent physical and cognitive impairment. The need for continued medical intervention is also high in these types of cases.
If you were injured in a car accident that resulted in a brain injury, it is important that you seek the legal assistance of a qualified brain injury attorney in West Palm Beach. Gordon & Partners has helped many accident victims recover compensation to pay for their ongoing medical needs and to compensate them for the other losses they incur.
Contact us today to schedule a free consultation. Because we work on a contingency fee, you will not pay any legal fees unless we recover compensation on your behalf.
Our team is here for you. Call 1 (855) 722-2552 right now.