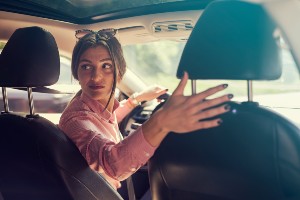 Many different car crashes occur on Florida roadways every day, including accidents when backing up. These accidents happen quite often in parking lots and driveways. The National Highway Traffic Safety Administration (NHTSA) reports an estimated 30,000 backing-up accidents in the nation each year.
Although the frequency and severity of car crashes while backing up can vary, these accidents can lead to significant injuries such as whiplash, broken bones, soft tissue damage and traumatic brain injuries.
Below, Gordon and Partners discuss how fault is determined for backing-up accidents and when the driver backing up may not be entirely to blame for damages. An initial consultation to learn more about your rights after a car crash comes at no cost to you. We only get paid if we help you obtain a recovery.
Possible Scenarios for Backing-Up Accidents
Backing-up accidents are common in parking lots when one or more vehicles are backing up out of a parking space. For instance, some of these car crashes happen when:
A vehicle backs into a stopped vehicle
A vehicle backs into a passing vehicle
A vehicle backs into another vehicle in the through lane between rows of parking spaces
Two vehicles are backing out of opposite parking spaces at the same time
There are also scenarios when a vehicle backs into a lane of traffic and crashes into an oncoming vehicle. Backing-up accidents can even happen in driveways. A vehicle can back up into a stationary vehicle or object, or back up into a pedestrian or bicyclist passing by on the sidewalk or street.
According to an NHTSA study, more than 90 percent of car crashes when backing up can be attributed to the driver being unaware of an obstacle and/or the driver using improper backing techniques.
Determining Fault in a Car Crash When Backing Up
Many people assume that the driver backing up is always at fault in a backing-up accident. However, that may not necessarily be the case. The driver backing up may share the blame with another driver.
Backing-up accidents generally involve negligence. Determining fault will come down to who had the right of way and whether there was one vehicle involved in the car crash that was not moving.
In Florida, no one has the right of way, but the law does state who must yield to others sharing the roadway. If a driver breaks the law and a car crash happens, he or she will likely be found at fault.
Failing to yield to a driver who does not have a stop sign or is already backing up are examples of violating regular traffic patterns. Even a driver who had the "right of way" based on traffic patterns may share blame for a backing-up accident if he or she was speeding or not paying attention to the road.
In a car crash when backing up, the moving vehicle is almost always at fault. If there are two moving vehicles, generally the vehicle that moved first may be considered at fault. However, if a vehicle is moving but stops with plenty of time, that driver may share very little blame, if any, for a car crash.
What Are Some Deliberate Acts of Negligence?
Other times, determining fault may be clearer, especially if deliberate negligence is involved in a backing-up accident. This includes acts such as:
Reckless driving
Driving under the influence of drugs or alcohol
Road rage, or driving with the intent to harm the other driver
Impairment is a factor in many car crashes, including backing-up accidents. For instance, a driver may have left a bar or restaurant while impaired by alcohol. Impairment can lead to bad judgment and delayed reactions. An impaired driver may back out of a spot without even checking his or her mirrors.
Since these acts display a blatant disregard for another's safety or property, they are often a deciding factor in liability disputes.
Staying Safe and Avoiding a Backing-Up Accident
You cannot always avoid a backing-up accident from happening. However, there are steps you can take to reduce your risk of being a victim or being at fault for a car crash. These include:
Do not rely solely on a backup camera. Be sure to turn your head and look before moving.
Take your time backing out of a parking space or driveway. You may have to inch out and stop several times to ensure you do not hit a stopped or moving vehicle.
Do not blindly drive in reverse. Scan both sides of the roadway for other vehicles that may back up, or for pedestrians or bicyclists that may be passing by behind your car.
Decades Advocating for Car Crash Victims
If you have been involved in a car crash and suffered an injury or property damage, a licensed West Palm Beach vehicle accident attorney is ready to help you explore your available legal options.
Contact our firm today to schedule a free consultation to discuss the details of your situation.