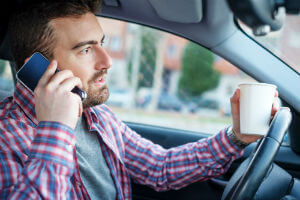 Distracted driving is a contributing factor in a significant number of car accidents and occurs when a motorist is paying attention to something other than the roadway.
Although distracted driving is a danger to all who are sharing the roadway, many drivers still continue to engage in distracting behavior each day.
Fortunately, accidents caused by distracted driving are completely preventable. By gaining an understanding of what causes distracted driving, motorists may be able to avoid this type of dangerous behavior.
Below, Gordon & Partners's West Palm Beach auto accident attorneys discuss some of the factors that may cause drivers to become distracted while operating a vehicle. Contact us for a free, no obligation consultation if you have been injured in an auto accident caused by another's negligence.
What Is Distracted Driving?
Distracted driving is any activity that takes your attention from driving and is generally divided into three categories:
Visual: Visual distractions can be attributed to anything that may cause you to take your eyes off the road, such as looking at your cellphone to read a text message.
Manual: Manual can include any type of distraction that causes you to take your hands off the wheel, such as when you adjust your vehicle's radio or temperature settings.
Cognitive: Cognitive distractions take your mind off of the road, such as daydreaming or focusing on a troubling issue while driving.
Although distracted driving is generally separated into three groups, some activities and behavior are not exclusive to one category. For example, a driver who talks or texts on his or her cellphone is engaging in all three types of distracted driving.
Distracted Driving Facts
In 2016, more than 3,400 people were killed in auto accidents caused by distracted driving, according to the National Highway Traffic Safety Administration (NHTSA).
This statistic has remained relatively steady since 2015, when distracted driving accidents resulted in 3,477 fatalities and approximately 391,000 injuries, according to the NHTSA.
According to the AAA Foundation for Traffic Safety, other facts related to distracted driving include:
Approximately 10 percent of fatal crashes involve distracted driving
Fatalities for teen drivers is three times greater than for drivers who are 20 years or older, while 58 percent of teen crashes are attributed to distracted driving
Motorists who use their cellphones while driving are five times more likely to be involved in an accident than drivers who are focused on the roadway
Motorists who text while driving are 23 times more likely to be involved in an auto accident
Causes of Distracted Driving
Because of the significant impact of distracted driving, it is important to understand what can cause accidents related to this activity. Any activity that pulls your attention from driving is a cause of distracted driving. Some common examples of distracted driving include:
Cellphone Use
Using a cell phone while driving can be extremely dangerous and may cause motorists to divert their full attention away from the roadway. Distractions related to cellphones include:
Making a phone call
Texting
Checking social media updates
Sending or receiving emails
Using the device's navigation system
Using an app or feature on your cellphone
Adjusting Vehicle Controls
Often, drivers become distracted while they adjust the settings on their vehicle's features, such as:
Temperature control
Radio station
The GPS system
Seat position
Side and rear-view mirrors
Eating and Drinking
Another cause of distraction for drivers occurs when a motorist eats or drinks while operating a vehicle. Eating and drinking can take your eyes off the road as well as occupy your hands.
This can seriously reduce a driver's reaction time and may prevent him or her from being able to adjust to sudden changes in the roadway or upcoming hazards. For this reason, it is imperative that you do not eat or drink while operating a vehicle.
Distractions in the Vehicle
Drivers can also become distracted by activity, people or objects inside their vehicle, including:
Engaging in conversation with passengers
Searching for lost or fallen objects
Listening to the radio too loudly
Adjusting a child's car seat
Contact a Lawyer
If you were injured in an auto accident caused by a distracted driver, you should strongly consider contacting Gordon & Partners's personal injury attorneys in West Palm Beach to review your claim.
We have decades of combined legal experience representing victims of negligence and will provide you with a free, no obligation consultation to help you determine if you have a case against the at-fault party. We will not hesitate to pursue every legal option available to help you obtain the results you deserve.
We provide all of our services on a contingency fee basis, which means you only have to pay us if we recover compensation for your claim. Do not hesitate to contact us to find out if you have a case.
Complete a Free Case Evaluation form to get started.