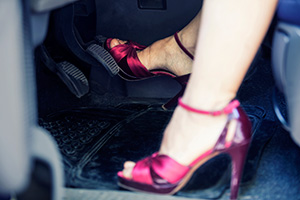 No matter if you have years or just months of experience behind the wheel, a simple pedal error can lead to a serious accident, which is why the National Highway Traffic Safety Administration (NHTSA) is working to reduce pedal error crashes.
According to the NHTSA, about 16,000 accidents each year are caused when a driver mistakes the accelerator for the brake.
Have you been injured in an auto accident caused by a careless driver? The experienced lawyers at Gordon & Partners have recovered millions on behalf of car crash victims in South Florida. A personal injury lawyer from our firm may be able to help you obtain the compensation you deserve.
For a free claim review, call 1 (855) 722-2552.
Pedal error crashes occur when the driver, intending to apply the brake, slips off the edge of the brake pedal and hits the accelerator. This may also occur when the driver intends to brake, but steps on the accelerator instead.
The problem may be linked to sudden acceleration, as a result of a vehicle defect. However, the NHTSA has identified that many of these vehicle defect complaints can actually be attributed to pedal error.
Approximately 44 pedal error incidents occur each day. Teen drivers and those over the age of 65 experience pedal error crashes about four times more frequently than other age groups.
In Florida, news reports of accidents involving elderly drivers accidently stepping on the accelerator instead of the brake are common. With drivers over the age of 65 making up more than 20 percent of licensed drivers in the state, pedal errors are much more common in South Florida.
At Gordon & Partners, we encourage all drivers to make it a habit to aim for the center of the brake pedal, avoid distractions, be cautious, and wear the appropriate shoes as flip-flops and high heels can contribute to pedal error accidents.
If you or someone you love is hurt in an accident caused by a careless driver, the victim may be entitled to compensation for property damage, medical bills and more.
Fill out a free case evaluation today to speak with one of our experienced auto accident attorneys .
Alternatively, call us now at 1 (855) 722-2552 to schedule a free legal consultation.