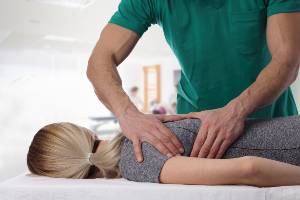 Car accidents due to another's negligence can result in neck, spine and other back injuries. These types of injuries may require special medical care to help provide pain and symptom relief. Chiropractic treatment is often sought by car accident victims as part of their recovery process.
If you are seeing a chiropractor, treatment for your injuries can be costly. You may be worried about whether insurance will reimburse you. In most cases, chiropractic treatment may be covered in a car accident settlement. At Gordon & Partners, our licensed attorneys are ready to discuss your available options for pursuing compensation to cover your chiropractic treatment during a free consultation.
The initial meeting comes with no obligation to hire our firm. If you have a case and decide to move forward, we charge zero upfront fees to retain our services. We only get paid if you get paid.
How Do I Get My Chiropractic Treatment Covered?
It is important to seek medical care as soon as possible. Many injuries – even seemingly minor ones sustained in a car accident – can worsen over time. While you may not feel immediate pain or discomfort in your neck, spine or back, you may have an underlying injury.
Prompt care is especially important when another party is at fault. Delaying any form of treatment could make it difficult to recover the compensation needed to cover your expenses related to the accident.
The state of Florida requires car accident victims to seek medical care within the first two weeks of an accident. This is known as the 14-day rule. Failure to follow this rule could impact a claim significantly.
Additionally, chiropractic treatment is still widely seen as discretionary, non-medical care by insurance companies. This can make it more challenging for car accident victims to recover the cost of treatment in a settlement. To increase your chances of getting your chiropractic treatment covered, be sure to:
Ask your treating doctor for a chiropractic referral as part of your recovery process
Have your chiropractor document your treatment in your medical records. This includes any diagnostic tests, imaging results and any other relevant information.
Follow through with scheduled appointments and prescribed treatments
Maintain an injury journal detailing your pain and any limitations you may have
Can I Seek Compensation Via My PIP Coverage?
Florida is a no-fault insurance state. This means that your first source of financial recovery will likely be by filing a claim against your personal injury protection (PIP) coverage. Your PIP will pay up to 80 percent of your medical bills not to exceed $10,000. This includes chiropractic treatment, regardless of fault for the crash.
However, this coverage only extends to reasonable and necessary medical expenses. For instance, if your accident-related injury only required three months of chiropractic treatment but you underwent treatment for six months, your PIP coverage will not automatically reimburse you for the additional three months.
In most cases, you may be able to also pursue a third-party claim against the at-fault party. Florida law allows car accident victims to pursue claims for damages under two conditions:
Can I Pursue a Settlement Through a Third-Party?
It is common for injured victims to see a chiropractor following a car accident for healing and recovery. Settlements awarded by third-party insurance companies generally include compensation for chiropractic treatment, provided the treatment was reasonable and necessary.
However, navigating the claims process after a car accident can be a daunting task. While you heal from your injuries, the at-fault party and his or her insurer will do anything to minimize their financial liability.
Some insurance companies may be biased against chiropractors and attempt to undervalue valid claims. An insurer may say that your chiropractor kept treating you long after you healed. Your claim may become more complicated if you were already seeking chiropractic treatment before the accident. The insurance company may say that your injury was preexisting and not connected to the recent accident.
If the insurance company is arguing about your injuries and need for chiropractic treatment, we recommend reaching out to an experienced attorney who can advocate for your best interests.
How Will Hiring a Lawyer Help My Car Accident Case?
When pursuing a car accident settlement, it is important to have legal representation on your side for various reasons. An attorney can help ensure that you have the evidence you need to prove your case.
If the insurance company is disputing the reasonableness and necessity of your chiropractic treatment, he or she may decide to retain medical experts who can review your records and provide their opinion.
If the insurance company is disputing that the car accident was as severe as you claim, your attorney may decide to hire an accident reconstructionist who can put together a detailed report that supports your version of events. Every single case is unique, and several factors may come into play.
Get Answers to Your Legal Questions Today
If you need help pursuing compensation for your chiropractic treatment after a car accident, our West Palm Beach car crash attorneys are here to help. We know what it takes to get the settlement you need to cover your medical costs. We have helped recover millions in compensation on our clients' behalf.
Contact our office today to schedule a risk-free, zero-obligation consultation. There are no upfront fees involved if we represent you. Our firm only receives payment if we help you obtain compensation.