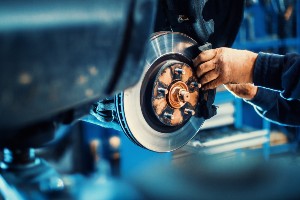 If you are in an accident and your car is damaged, you may be unsure where to get it repaired. You may even feel pressured to go to a repair shop the insurance company recommends.
Knowing your rights in these situations is important. Insurance companies routinely take advantage of car crash victims as they attempt to devalue or deny claims. Their best interests are not the same as yours.
Below, learn more about choosing a repair shop after a crash. If you need help pursuing compensation, call Gordon & Partners to get started. Our firm has obtained millions in compensation on behalf of car crash victims. We offer initial consultations at no cost, risk or obligation to you.
Taking Your Car in to Get Repaired
In Florida, you have the right to take your car to the repair shop of your choice. The insurance company can only recommend that you take your car to a certain shop for repairs. State law prohibits insurers from failing to initiate and conclude the investigation of a claim based on your choice of a repair shop.
It is also important to note that unless your insurance policy states otherwise, you do not have to take your car to a certain location for an estimate. The insurance company may ask that you take your car to a drive-in claims center, but it is generally not mandatory.
Additionally, you are not required to get more than one estimate on the cost of repairing your car. However, you may still want to do this just to make sure you are not being overcharged and that all the repairs needed are being performed. In some cases, the insurance company may want to have their own adjuster inspect the damage to your car.
Benefits of Using Repair Shops Insurers Recommend
Repair shops recommended by auto insurers are usually reputable establishments they routinely work with. Although you are not required to take these recommendations, there are some benefits.
For starters, lifetime warranties are the standard. Choosing your own shop may not necessarily guarantee a lifetime warranty for repairs. Be sure to confirm the warranty before repairs begin.
Taking your car to a recommended repair shop could also help the entire process go faster. (In most cases, your insurer will pay to fix your car, even if you did not cause the crash.) The paperwork, repairs and payment can be handled quickly.
If you go with a repair shop outside of your insurer's network, it may take longer to settle your claim. In some cases, you may have to pay for repairs out of pocket until you can ask for reimbursement from the insurance company.
If there are any issues with your car after your claim has ended, you may be able to take it back to the same repair shop and have most of the costs covered. If you need further repairs done but live out-of-state or too far from the shop, it can be inconvenient. However, in some situations, the insurer may provide another in-network shop that is close by.
Going to a recommended repair shop may involve discounts. If there are additional costs that arise while your car is being repaired, they may be covered by the insurer. If you choose your own repair shop you may be responsible for any additional costs that were not in the original estimate.
Even if the insurance company is paying for your rental car while your car is being repaired, it may only be for several days. If your car needs to stay in the shop longer, you may need to pay for any extra rental fees out-of-pocket when you do not go with an in-network repair shop. If you take the insurer's recommendation, they may extend your rental car coverage so that you can avoid these extra fees.
Agreeing to have your car repaired by an insurer-preferred repair shop may not always be the best option. It is important to do your research to ensure that the shop provides quality services and has experience working on cars like yours. This is especially true if your car is older or an unusual make or model.
Advantages of Choosing the Shop Yourself
You may have taken your car to a repair shop or already have a relationship with a mechanic you know and trust. It may give you peace of mind that the work being performed will be good.
Perhaps a repair shop recommended by the insurer is a long distance from where you live. It may be more advantageous to you to choose a closer repair shop that can save you time and gas money.
There may even be a repair shop that was recommended to you by a loved one. He or she may have had a positive experience with the repair shop and can vouch for their work.
We Are Here to Help. Call Our Firm Today
Our West Palm Beach-based auto accident lawyers are ready to discuss your available options after a crash during a risk-free, zero-obligation consultation. We are here to help you through the claims process. We know how insurers think and are ready to discuss your next steps if they refuse to settle.
There are no upfront fees to retain our services, even after we determine your eligibility for compensation. Our lawyers work on a contingency fee basis and are not paid unless you get paid.