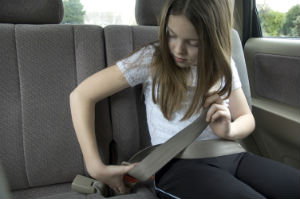 Seatbelts are credited with saving an estimated 63,000 lives from 2010 to 2014. Despite undeniable evidence that seatbelts save lives, the national seatbelt use rate is only 88.5 percent.
In efforts to increase seatbelt use and safety nationwide, the National Highway Traffic Safety Administration (NHTSA) recently kicked off its annual "Click It or Ticket" campaign. Advertisements as well as an enforcement period will run through June 5th.
Officials urge all vehicle drivers and passengers to always buckle up before beginning any trip. The "Click It or Ticket" campaign aims to change attitudes regarding seatbelt usage. Fastening one's seatbelt is one of the easiest choices vehicle occupants can make to improve their safety.
Through the duration of the Click It or Ticket campaign, officers are expanding their efforts to encourage all motorists and passengers to buckle up, and will be enforcing the state's seatbelt law. Those not wearing a seatbelt could face a $30 fine. For every child not wearing a seatbelt, there is also a $60 fine.
Seatbelts Save Lives
In 2014, approximately half of all people killed in passenger vehicle crashes were not wearing seatbelts. In cases of nighttime crash fatalities, 57 percent of those killed were unrestrained. Only 41 percent of fatal daytime crash victims were not wearing seatbelts.
Men tend to neglect seatbelt usage at a higher rate than women. In fatal crashes, 53 percent of men were not wearing seatbelts, as opposed to only 40 percent of women.
In Florida in 2015, just over 89 percent of motorists use seatbelts as they should. That year saw a 0.6 percent increase in usage over the previous year. There is still more work to go, however. Seatbelts are an easy and important safety device that truly save lives.
Our car accident lawyers know the devastation associated with being injured or losing a loved in an accident. Our injury attorneys can help you fight for the compensation your family deserves.
Call 1 (855) 722-2552 or complete our Free Case Evaluation form now.