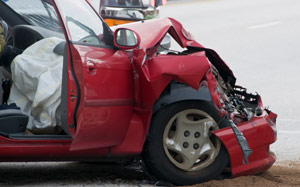 It may seem like there is a simple solution for avoiding colliding with a vehicle driving the wrong way, but each year hundreds of head-on, auto accidents are reported.
In 2014, at least 700 wrong-way incidents on local streets were reported, according to the Tampa Bay Times. Each day, drivers who are unfamiliar with the area, are intoxicated or simply distracted will turn the wrong way onto a one-way road. In some cases, drivers will turn onto the interstate the wrong-way despite warning signs.
The issue has become so prevalent that the state's transportation department is adding new and bigger signs, pavement markings and radar-tipped LED signs that flash wrong way if a vehicle enters an interstate off-ramp.
If you are ever in a scenario when you are facing a vehicle coming down the wrong side of the road or highway, keep the following tips in mind:
Call 911 as soon as possible. Although it is important to try to get the drivers attention to let them know they are going the wrong way, the authorities should be called to handle the situation. Many times, drivers who enter a road or highway the wrong way are intoxicated or under the influence of drugs.
Try moving over to the shoulder, whether it is the one closest to the left or right of you. Getting off the road as soon as possible can help you avoid being hit.
Flash your high beams at the driver coming toward you. Its important to get the drivers attention so you may even need to honk your horn to get their attention.
Since 1968, the National Transportation Safety Board has conducted studies on wrong-way collisions and continued to offer recommendations on preventing these types of dangerous collisions. The most recent study, completed in 2012, explored dozens of wrong-way collisions and identified even more safety precautions states should take to continue preventing these accidents.
If you or someone you love has been injured in a wrong-way accident, hiring a top personal injury lawyer in Fort Lauderdale, FL can help you obtain the justice that you deserve.
The team of auto accident attorneys at Gordon & Partners can help you fight for your rights. You may be entitled to compensation for medical bills, lost wages and your pain and suffering.
For a free review of your claim, call 1 (855) 722-2552 or fill out our Free Case Evaluation form.