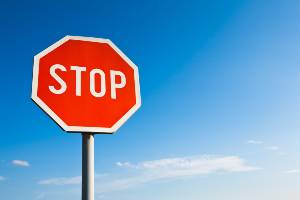 Stop signs are used to help drivers determine who should yield the right of way at an intersection. These traffic control devices are effective when used properly. However, when a driver runs a stop sign, it can significantly increase the risk of a collision resulting in serious injuries and damages.
If you have been harmed by another driver's negligence, you may be eligible to seek compensation for your losses. A licensed vehicle collision attorney in West Palm Beach is prepared to review your situation, discuss your options and answer any questions you may have about the legal process.
An initial consultation is free of charge so there is no risk to you. You are also not obligated to move forward after this meeting. Payment for our services is only due if we help you obtain compensation.
What Does Florida Law Say About Running a Stop Sign?
Every driver must abide by the rules of the road. These rules include making a safe and complete stop at a stop sign. Florida Statutes 316.123 has guidelines on how drivers should properly stop at a stop sign.
When a driver approaches a stop sign, he or she is required to come to a complete stop before the limit line or marked line on the road. If there is no limit line or marked line, a driver is required to come to a complete stop before the intersection.
A driver is required to remain stopped until it is his or her turn to move forward. This means that all drivers must yield the right of way to other drivers, bicyclists or pedestrians sharing the roadway.
Why Do Drivers Run Stop Signs?
There are various reasons drivers may run a stop sign, intentional or otherwise. For instance:
The driver was impatient and did not want to wait or come to a complete stop
The driver was speeding or in a hurry to get somewhere
The driver was distracted and not paying attention to his or her surroundings
The driver was impaired and could not properly stop at the stop sign
Although there is no excuse for stop sign violations, there are other factors that can cause a driver to unknowingly run a stop sign, such as poor weather, like heavy rain. A driver may have misjudged where to stop because he or she was a novice driver or was unfamiliar with the road.
New or Hidden Stop Signs
Most drivers take certain routes because they know these routes inside and out and frequently travel on them. However, when a new stop sign is installed at an intersection a driver is familiar with, he or she may accidentally run the stop sign without being fully aware it exists.
A stop sign may be also hidden from a driver's view. Sometimes a stop sign can be difficult to see if:
Vandalized and covered in graffiti
Bent or knocked over
Backward or twisted around
Broken in half or missing a portion
Blocked by a tree, hedge or bush
Faded Limit or Marked Lines
Limit lines or marked lines at a stop sign fade over time. Sometimes a two-way or four-way intersection may not even have a limit or marked line. This can cause a driver to accidentally run through the stop sign without realizing it. He or she may stop too far up thinking it is the proper place to stop.
What Are the Penalties for Stop Sign Violations?
In Florida, running a stop sign is considered a moving violation. The penalties for stop sign violations are generally monetary with fines up to $200. The fines can be much higher based on the circumstances. For instance, if a driver went through a stop sign in a school zone or construction zone.
Running a stop sign may also result in three demerit points added to a driver's license. These points could increase a driver's auto insurance rates and/or cause his or her license to be suspended.
Seeking Compensation for a Stop Sign Collision
If you have been injured in a collision caused by a driver running a stop sign, you may be eligible to seek compensation for your losses. To file a successful legal claim, you (the plaintiff) must be able to show that the other driver (the defendant) was negligent in some way.
All drivers owe others sharing the roadway a duty to act as a reasonable person would in a similar situation. This means not failing to stop or come to a complete stop at a stop sign. If the other driver's action or inaction was the direct cause of your injuries and damages, he or she may be held liable.
If you think you may have a case, a lawyer at our firm is ready to help gather the evidence needed to prove negligence on your behalf. The police report may show that the other driver was cited for running the stop sign. Anyone who witnessed the collision may have seen the other driver was texting or otherwise distracted.
Your lawyer may even decide to hire an accident reconstructionist to help identify any driver errors that may have contributed to the stop sign collision, such as reckless driving or excessive speeding.
Contact Gordon & Partners for Trusted Legal Help
Our firm works hard to advocate for victims harmed by negligent drivers. We know what it takes to seek maximin compensation after a collision, having recovered millions for our clients over the years.
An initial consultation is 100 percent free and will allow you the opportunity to learn more about your rights and eligibility for compensation. There are zero upfront fees involved.