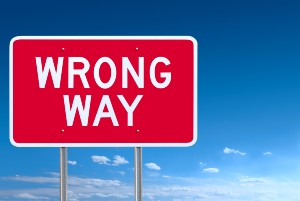 Car accidents involving a driver traveling the wrong way on a road can result in serious and potentially life-threatening injuries. These accidents often happen when driving at a high rate of speed on highways or in congested areas. If you have been injured or lost a loved one in a wrong-way crash, you may be eligible to pursue compensation for medical expenses, funeral and burial costs and more.
At Gordon & Partners, we are committed to protecting the rights of those harmed by another's negligence. Allow us to review your situation and discuss your potential legal options in a free initial consultation. There is no obligation to move forward and no upfront fees to use our services.
Why Wrong-Way Accidents Often Happen
According to the Florida Department of Highway of Safety and Motor Vehicles (FLHSMV), a wrong-way accident happens when a driver fails to observe posted signs or pavement markings and ends up in a lane going in the wrong direction. The majority of these accidents are head-on – 81 percent of which result in fatal injuries.
Several factors can contribute to these crashes, but some commonalities include:
Most wrong-way accidents occur while driving at night when visibility is low and drivers are more likely to be fatigued
Many wrong-way drivers are impaired, driving under the influence of drugs or alcohol
These crashes often involve drivers entering an exit ramp in the wrong direction
Poor road signs and construction can confuse drivers and cause them to travel the wrong way
Drivers eating, texting or otherwise distracted can lose focus and veer into the opposite lane
The injuries sustained can range in severity and could include broken bones, lacerations, traumatic brain injuries, spinal cord injuries, permanent disability or paralysis.
What to Do If Hit by a Wrong-Way Driver
Being in an accident can be overwhelming. You may be in shock, injured and unable to think clearly. However, there are certain actions you can take to help protect your well-being and potential claim.
Move Over and Call 9-11
Some injuries and damage to your car may make it impossible to move, but if you can, get off the road as safely as possible. Call 9-1-1 and wait for the responding officer to arrive. A police report can help prove the cause of the accident and who may be liable for your injuries.
Get Checked By a Doctor
Even if you do not think your injuries are serious, it is important to see a doctor to assess your condition. You may have a hidden head trauma that can worsen if left untreated. Your medical records can also help show the extent of your injuries and link them directly to the accident.
Document Everything
The responding officer will gather contact details and statements from all drivers involved, but you also need to obtain the other driver's personal and insurance information. If you can, take pictures of the accident scene, your injuries, any damage to your car and other property.
Seeking Compensation for Injuries and Damages
Under Florida law, victims of wrong-way accidents may be eligible to pursue a claim against the other driver. To obtain compensation, you must establish that the other driver was negligent.
Negligence is shown by proving that the other driver owed you a duty of care on the roadway. This means the driver was obligated to drive safely and responsibly to prevent you from harm. The other driver breached this duty of care by not acting as a reasonable person would have in a similar situation. This breach must have also directly caused your injuries and damages.
No Upfront Fees
Ph: 1 (855) 722-2552
An experienced car accident attorney in West Palm Beach is prepared to help you recover damages from the party responsible for the crash. We know what it takes to gather evidence to build a strong case for compensation.
The compensation available to you will be determined based on the extent of your injuries, how your injuries have affected your life, and your anticipated recovery time, among other factors.
Avoiding Wrong-Way Crashes in Florida
To try and avoid a wrong-way crash, there are certain precautions drivers can take:
Stay in the right lane at night to avoid a wrong-way driver
Reduce your speed and pull over if you see a wrong-way driver approaching
If you manage to avoid a wrong-way driver, call 9-1-1 to report it
Stay alert and never drive distracted or under the influence
If you drive past a wrong way sign, immediately turn around
Contact an Experienced Attorney Today
Wrong-way accidents can result in serious injuries and an extensive recovery process. Our attorneys at Gordon & Partners have experience since 1993 handling car accident cases. To date, we have obtained millions of dollars in compensation on behalf of our clients.
Request a free initial consultation to see how we may be able to help. You are not obligated to have us represent you, but if we do, we charge nothing up front. We only get paid if you do.