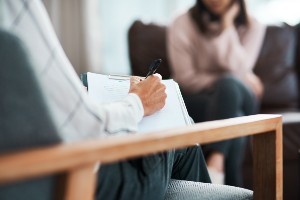 Car accidents are often traumatic and stressful events. Victims can suffer various physical injuries from fractures and broken bones to more serious, life-changing injuries affecting the brain or spinal cord.
In addition to physical injuries, victims can also suffer from emotional and mental trauma, such as post-traumatic stress disorder (PTSD). PTSD can have a significant and long-term effect on a victim's life as well as his or her relationships with family members and friends.
If you have been injured in a collision, our licensed car accident lawyers in West Palm Beach are here to help. We are ready to review your situation and determine your options for pursuing compensation during a risk-free, zero-obligation consultation. There are no upfront fees to use our services.
Risk Factors of Post-Traumatic Stress Disorder
PTSD is a mental health condition that can happen after experiencing a traumatic or stressful event. This includes serious car accidents. PTSD can have a lasting impact on the lives of accident victims. The risk of developing PTSD after a collision will depend on several different factors, including but not limited to:
Reaction to the traumatic event
Severity of injures caused by the car accident
Nature of the car accident
Previous traumatic or stressful experience
Circumstances surrounding injuries sustained
State of mental health at the time of the collision
Victims who develop PTSD may require extensive therapy to help combat these issues and maintain their mental health. If left untreated, PTSD may lead to major depression or alcohol/drug dependency.
Symptoms of PTSD After a Collision
PTSD symptoms car accident victims may suffer from include:
Depression
Anxiety
Trouble sleeping
Fear or phobias
Excessive worrying
Feeling angry or irritable
Nightmares or flashbacks of the collision
Difficulty concentrating
Intrusive memories of the collision
Behavioral or personality changes
Victims of PTSD may also struggle with discussing the event that caused their symptoms in the first place. They may avoid certain places, areas, people, circumstances or experiences.
PTSD may take time to manifest. As such, symptoms may not be immediately apparent after a collision. The National Institute of Mental Health reports that it could take three months or longer for a victim to start experiencing symptoms of PTSD. This is why it is important to see a doctor about any emotional trauma you may be experiencing in addition to other injuries you may have sustained.
Recovering Compensation for PTSD
Florida is a no-fault state that requires car accident victims to file a claim with their own insurance company, regardless of fault, in order to be compensated for their injuries.
However, if an accident victim suffers injuries beyond the available policy limits, he or she may be allowed to step outside of the no-fault system to file a claim against the negligent party's insurance company. This is only possible if specific requirements are met. One of these requirements is that you suffered a significant or permanent injury.
If you meet the serious injury threshold, you may be able to sue for PTSD and other non-economic damages (i.e. pain and suffering) after a collision. Since every case is different, we recommend speaking with an experienced lawyer to see whether you meet the requirements to take legal action.
The amount of compensation you may be eligible to receive for PTSD will depend on the severity of the injuries you sustained and how these injuries have impacted your life. This can be proven with the help of a lawyer. He or she can gather the evidence needed, such as medical treatment records to help validate your diagnosis and eyewitness accounts to help support how serious the collision was.
Reach Out to Learn More About Your Options
If you suspect you or a loved one is suffering from PTSD after a collision, Gordon & Partners is ready to seek maximum compensation on your behalf. We know how difficult it can be to prove emotional trauma, compared to physical injuries, without legal help. Our firm has decades of experience conducting accident investigations and gathering evidence to build strong car accident cases.
It costs nothing to speak with a member of our legal team about your options. An initial consultation also comes with no obligation to take legal action. If you have a valid case and decide to have us represent you, we charge no upfront fees to get started and no fees while we work on your case.