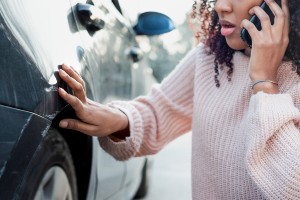 Not all collisions involve two cars physically hitting one another. A crash can sometimes occur without one car touching another, resulting in injuries to one driver or damage to one car. This is referred to as a no-contact car accident.
However, being able to pursue compensation for these accidents can be difficult because the other driver may not even realize he or she caused a crash and continue driving. If you have been involved in a no-contact car accident, it is best to speak with an experienced lawyer as soon as possible.
For answers to your legal questions, request an initial consultation with a West Palm Beach car accident lawyer from our firm. This meeting is completely free and comes with no obligation to retain our services.
When No-Contact Car Accidents Occur
No-contact car accidents occur when a driver's actions cause you to crash in some way. The at-fault driver did not actually hit your car, but he or she could still be liable for your injuries and/or damages.
Some causes of no-contact car accidents include:
A driver cut you off, and you made an evasive maneuver and crashed
A driver stopped suddenly in front of you, and you swerved to avoid hitting him or her
A driver ran you off the road when he or she changed lanes without looking
A driver did not yield the right-of-way and forced you to maneuver out of the way
A no-contact car accident may involve hitting other cars or fixed objects. For instance, perhaps you were forced to swerve to avoid a crash, only to collide with a tree, light pole or road sign.
The driver who caused the crash may continue driving without realizing the damage he or she caused due to negligence. These drivers are also commonly known as phantom drivers since they are here one minute and gone the next. Accidents caused by phantom drivers are often treated as a hit and run.
Liability for Accidents Without Physical Contact
A driver that causes an accident, but does not touch your car, is no less liable than a driver that makes physical contact with your car.
However, many no-contact car accidents are considered single car accidents by insurance companies. This often means that the victim would be responsible for the crash, which seems completely unfair.
Florida is a no-fault insurance state so you would need to go through your own personal injury protection coverage to help pay for medical costs and lost wages.
If the other driver is apprehended or identified, you will need to prove that he or she acted negligently and this behavior led to the crash that caused you to be injured or suffer damages. A lawyer can help you accomplish this by collecting certain forms of evidence to identify the driver and his or her car.
What If the Other Driver is Not Found or Identified?
In these instances, you could turn to your uninsured motorist coverage. State law does not require that you carry this coverage but does mandate that auto insurance companies offer it to you.
This coverage is used when drivers do not have insurance or when the other driver cannot be located, such as in a no-contact or hit-and-run accident. The uninsured coverage portion of your insurance policy could help cover medical expenses and property damage.
It is important that you read your insurance policy in great detail for any special requirements in utilizing this coverage. For instance, your insurance company may require that you have a corroborating witness.
Value of Witness Statements in These Cases
Non-contact car accidents are difficult to prove. Witness statements could help determine whether or not the accident actually happened, and if there was an unidentified car that caused the crash.
A corroborating witness is someone who was either involved in the accident, was passing by when it happened or observed the accident from a close distance.
Some insurance policies may state that the corroborating witness can only be an independent third party. This means any passengers in your car may not be able to serve as witnesses.
Even without a witness statement, you may still be able to utilize your coverage, up to your policy limits.
Gordon & Partners is Prepared to Assist You
Gordon & Partners has represented many accident victims in a variety of cases caused by negligence. With experience since 1993, we have the knowledge, skills and resources to bring a claim against any driver or insurance company. Our firm has obtained millions in compensation for our clients.
Our initial consultations are free and because we work on a contingency fee basis, there are no upfront fees if we represent you and no fees while we work on your case. Our lawyers are ready to assist and answer any questions you may have 24 hours a day, seven days a week.