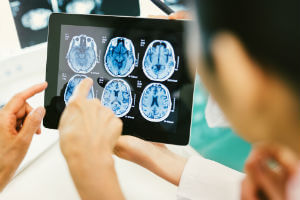 Concussions are a common type of traumatic brain injury (TBI) that is often temporary, but can have long-term and devastating effects. These injuries commonly occur in serious car accidents, but the symptoms can go unrecognized for hours or days.
The West Palm Beach car accident attorneys at Gordon & Partners want you to be aware of the signs of concussions following a vehicle collision and what you can do to seek compensation for your injury.
We have helped numerous car accident victims recover the compensation they deserve for their medical bills, lost wages, and pain and suffering. To find out if you have a case against the at-fault party, contact us to schedule a free, no obligation consultation to discuss your claim with our personal injury lawyer s in West Palm Beach.
What is a Concussion?
A concussion is a mild type of TBI that is caused by the brain striking the inside of the skull after being subjected to a strong blow or forceful impact.
During a car accident, a concussion may occur if the victim's head collides with a surface inside the vehicle, such as the steering wheel or a window. Concussions can also happen if the head is violently thrown forward and then thrust backward upon impact.
Unfortunately, many people mistakenly believe that concussions only occur if a victim loses consciousness. However, concussions can occur even if the victim does not lose consciousness after the collision.
Signs of a Concussion from a Car Accident
Concussions range from mild to severe, and can occur even if you did not physically hit your head in the accident. Often, many car accident victims experience strong headaches after the collision and use this as common sign to identify a concussion.
Car accident victims often report experiencing several symptoms that indicate when they may have suffered a concussion, including:
Confusion
Delayed reaction time
Difficulty concentrating
Disorientation
Memory loss regarding the accident
Irritability
Mood swings
Sleep pattern changes
Dizziness or lightheadedness
Nausea
Sensitivity to light an noise
Ringing in the ears
Concussion symptoms are often mistaken for other medical conditions and are easily overlooked. This is why it is important that you seek medical attention as soon as possible after being involved in a car accident. A health care provider will evaluate your injuries and conduct necessary testing to determine if you have suffered a concussion or other hidden injuries to help you begin to recover after an auto accident.
Compensation for Your Car Accident Concussion
While concussions range in severity, many car accident victims suffer long-lasting issues that drastically affect their lives.
These long-term or permanent effects may have a significant impact on your life. For example, they could affect your ability to perform simple tasks, work and earn a living, and may reduce your enjoyment of life. Furthermore, concussions that are left untreated can cause you to suffer serious medical conditions that may require extensive and costly medical treatment.
For this reason, it may be in your best interest to consult with a skilled attorney who can assist you in recovering the compensation you deserve after suffering a concussion during an auto accident. Your attorney will help you pursue the at-fault party to recover compensation for:
Past and future medical expenses
Lost wages
Loss of earning capacity
Rehabilitation
Medical assistive equipment
Pain and suffering
Loss of enjoyment of life
Emotional distress
Loss of companionship
To help your claim, an attorney will conduct an in-depth investigation into your accident to determine if the other driver's negligence may have caused you to suffer a concussion. Additionally, your attorney will help guide you through the claims process while working with the at-fault party's insurance company to help you obtain the compensation you deserve.
Contact Gordon & Partners
If you were injured in a car accident, it is in your best interest to contact an attorney to discuss your claim and determine if you may be entitled to additional compensation.
At Gordon & Partners, our skilled legal team has the experience you need to pursue a claim after suffering a concussion or other type of serious injury during a car accident. We will relentlessly pursue your claim to help you recover the maximum compensation you deserve for the injuries and financial losses you may have suffered.
Do not hesitate to schedule a free, no obligation consultation with our lawyers to conduct an evaluation of your claim. We will not charge you upfront fees and you have to only pay us if we recover compensation for your claim.
Call 1 (855) 722-2552 or fill out our Free Case Evaluation form now.