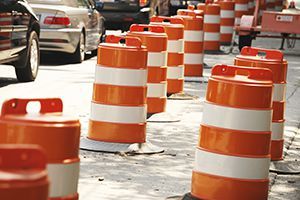 Road construction can be a major annoyance on highways. They slow traffic down, cause congestion and often confuse drivers with conflicting road signs and changes in traffic flow. All of these factors make construction zones a hot spot for auto accidents.
According to the Centers for Disease Control, Florida, Texas and California had the most auto accident fatalities in construction zones in 2012. Each state had a least 50 deaths.
Nationally, there were just over 600 construction zone accident fatalities that same year. Almost 90 percent of those deaths were drivers or passengers, not workers.
When traffic slows and tempers begin to fly as a result of a construction zone, more road rage and rear-end collisions are likely. When motorists are used to traveling at a known speed and suddenly find themselves in the midst of a construction zone, accidents will happen.
Some of the most common causes of construction zone accidents include:
Narrowing lanes
Motorists failing to adhere to the posted speed limit or acknowledging lane changes
Misplacement of barricades
Poorly maintained roads during construction
Incorrect or improper signage and warnings for drivers
The extra hazards present in construction zones are why it is important that all drivers pay extra attention. When approaching and traveling through a work zone, these additional tips can also help you stay safe:
Pay attention to everything happening around you
Slow down
Follow the posted signs, especially the speed limit
Keep a safe distance between you and the vehicle ahead to avoid a rear-end collision
Expect delays and plan ahead
Minimize distractions
If you or someone you love is injured in an auto accident in a construction zone, we can help. Our auto accident lawyers have years of experience representing those who have been injured in all types of accidents and can help you get the compensation you deserve. A personal injury attorney from our firm is ready to help you today.
Schedule your free consultation today by calling 1 (855) 722-2552 or completing a Free Case Evaluation form.