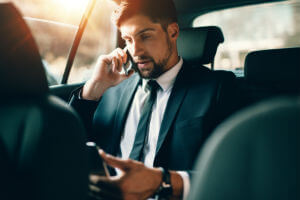 If you were involved in a collision with an Uber or Lyft driver, or injured while riding as a passenger using a popular ridesharing service, you may be wondering who is ultimately responsible for your damages.
Car accident cases involving rideshare drivers can be complex. After a serious collision, you may be facing expensive medical bills, loss of wages from missing work and other related damages while you try to make a recovery. In these situations, it is in your best interest to consult with an experienced lawyer as soon as possible to learn more about your rights and potential legal options.
An initial consultation with a car accident lawyer in West Palm Beach is free and confidential. There is no risk in calling us and no obligation on your part to move forward with our firm.
Major Concerns with Ridesharing Services
Ridesharing services, such as Uber and Lyft, have become popular among Florida residents. Although these services are an affordable alternative for passengers compared to taking a taxi, and a way to earn extra funds as a driver, collisions can still happen.
From a legal standpoint, some major concerns over the years with ridesharing services include:
Ridesharing companies allow drivers to work for them without meeting in-person. There is no interview process or background checks done compared to working for a taxi company.
Rideshare drivers are technically not professional drivers. While they may have had to prove a good driving record, these drivers do not need special licenses or training. Passengers and others on the road may come in contact with an inexperienced, careless or distracted driver.
Safety-related questions will arise anytime two or more strangers share a vehicle together.
Rideshare drivers must use their phones and apps to pick up fares and follow GPS coordinates. These actions may increase the likelihood of driving while distracted.
Insurance Coverage for Ridesharing Companies
Ridesharing companies, also known as transportation network companies (TNCs), must have auto liability coverage – up to $1 million per accident. This coverage can help pay for injuries to rideshare passengers and other drivers caused by the rideshare driver.
If you are riding with an Uber driver and he or she disregards a traffic light or stop sign and causes you to get hurt in a collision, you may have a claim against Uber's insurance coverage.
This insurance generally applies if the driver was logged into the app, had a passenger in the vehicle, or agreed to pick up a passenger at the time the accident happened.
Rideshare drivers must have their own auto insurance policies in accordance with state regulations. In Florida, this means having at least $10,000 in personal injury protection (PIP) coverage and $10,000 of property damage liability coverage.
Florida law also requires rideshare drivers to carry higher limits of insurance. If a rideshare app is on – but a driver has not been assigned a passenger – TNCs must provide the following minimum coverage for drivers with insufficient policy limits:
$50,000 of bodily injury coverage per person
$100,000 of bodily injury coverage per accident
$25,000 of property damage liability coverage per accident
A lawyer from our firm is prepared to conduct a detailed investigation to help identify all the insurance policies you may be able to seek compensation from to cover your losses.
Can I Sue the Rideshare Company If I Was Injured?
Your legal options will depend on the facts of the case. If the rideshare driver was at fault for the collision while carrying you as a passenger, you may be able to seek compensation from the rideshare service's insurance policy. If another driver is to blame for hitting the rideshare vehicle, you may be able to file a claim against their individual insurance policy limits.
However, if a settlement cannot be reached, you may be eligible to take legal action. In a personal injury lawsuit, you must prove that negligence played a role in the collision, which directly caused you to be injured and suffer damages. There is also a filing deadline to adhere to in order to prevent a court dismissal.
Recovering Damages in a Rideshare Collision
You may have a right to seek compensation if you are injured in a collision in Florida due to a rideshare driver's negligence or carelessness. Damages you could recover may include:
Present and future medical expenses
Lost wages from being unable to work
Lost earning capacity you would have earned if not injured
Pain and suffering, both physical and mental
Loss of enjoyment of life
Our Experienced Lawyers Are Ready to Help
Determining liability and seeking compensation can be challenging after a collision caused by a rideshare driver. Gordon & Partners is prepared to help you understand your legal options during a free consultation. There is no obligation for you to hire us after this initial meeting.
We also charge no upfront fees to use our services. Our firm only receives payment if we help you obtain compensation. We have recovered millions in compensation on behalf of our clients, including car accident victims, since 1993.