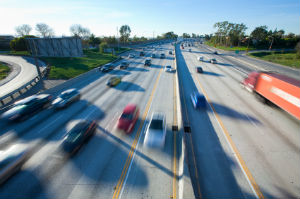 A new study shows that the steady increase in maximum speed limits across the country over the last decade has led to an increase in car accident fatalities.
The study, performed by the Insurance Institute of Highway Safety (IIHS), found that from 1993 to 2013, increased maximum speed limits caused 33,000 fatalities across the country. In 2013, the number of additional deaths was 1,900 – effectively cancelling out the number of lives saved that year by frontal airbags.
Over the study period, researchers looked at fatalities per billion miles traveled in 41 states that had raised speed limits from 55 miles per hour over the years. They considered the type of roadway and additional factors that influenced fatalities, as well as the projected number of fatalities if speed limits had not been raised.
Their findings directly tied the speed limit increases to increased fatalities – every 5 mph maximum speed limit increase led to a four percent fatality rate increase. Freeways and interstates are most often impacted by speed limit maximums. The fatality rate increase on these roadways alone was eight percent.
States are in control of setting maximum speed limits for their roadways. Since the end of the study period, the increases have continued – during the study period, there were only two states with maximum speed limits over 75 mph; now there are seven. On some Texas roadways, the maximum speed limit is 85 mph.
Researchers say that although the fatality rate dropped during the study period, it could have been drastically lower had states not raised speed limits. While some say raising speed limits is appropriate because drivers are already speeding, the reality is that speed limit increases lead speeders to travel at even faster rates.
If someone you love was killed in an automobile accident caused by a speeding driver, you may be entitled to compensation for medical bills, funeral expenses, and pain and suffering.
Call 1 (855) 722-2552 or complete our Free Case Evaluation form today and learn more about your options from a car accident lawyer at our law firm today. Our injury attorneys charge no upfront fees if we take on your case.