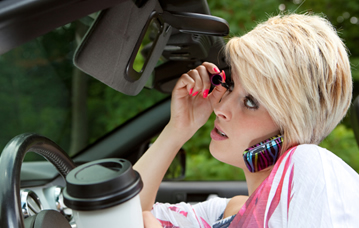 Distracted driving statistics show just how dangerous it is for a driver to take their attention away from the road: crashes caused by distracted drivers lead to 3,154 deaths in 2013 and more than 424,000 injuries.
Distracted driving accidents are a major problem in this country and drivers who are responsible must be held accountable for the devastation they cause.
If you have been involved in an accident that was the result of another driver who was driving while distracted, contact the personal injury lawyer s at Gordon & Partners now. We will review your case at no cost to you and inform you of your legal options. We are proud of our successful track record when it comes to helping our clients achieve justice.
Call 1 (855) 722-2552 to schedule a free consultation.
What is Distracted Driving?
Distracted driving occurs when the driver of a vehicle gives their attention to acts other than driving a vehicle. These distractions typically diminish the driver's performance, and can often lead to an auto accident. Common driving distractions include:
Texting
Talking on the phone
Adjusting the radio
Paying attention to passengers
Eating and drinking
Using a navigation system
Distracted Driving Statistics
The facts surrounding distracted driving are frightening:
Twenty-seven percent of fatal distracted driving accidents are caused by drivers in their 20s.
Ten percent of fatal accidents caused by drivers under the age of 20 can be attributed to distracted driving.
Using cell phones and other electronic devices to perform tasks such as texting or dialing increase the risk of an accident by three times.
Despite popular belief, using an earpiece or headset to talk on the phone while driving is not significantly safer than using a handheld device.
Twenty-five percent of teenage drivers report that they respond to at least one text message each time they get behind the wheel.
Twenty percent of teens and 10 percent of parents report that they carry on text conversations with multiple messages being sent while behind the wheel.
At any moment during the day in the United States, approximately 660,000 drivers on the road are using cell phones or other electronic devices as they drive their vehicles.
Distracted driving is clearly abundant on our roads, which puts you in danger each time you drive or ride in a vehicle, or possibly even as you walk down the street or ride a bicycle. Text messaging is especially dangerous because it requires visual, manual, and cognitive action to perform.
Distracted Driving Resources
The Centers for Disease Control & Prevention estimates that every day, over 1,000 people are injured in accidents caused by distracted driving. Below are some resources that provide more insight into why drivers are distracted behind the wheel, and how to protect yourself and your family.
Is Cellphone Addiction Real?
A survey suggests that distracted drivers admit to looking at their phones while behind the wheel because they are "addicted" to this technology.
Hands-Free Devices Distract Drivers Too
While hands-free devices may seem safer, they are still pulling a driver's attention away from the task at hand for at least 27 seconds.
Child Passenger Safety
Children can also be a source of distraction, which is why it is so important that parents choose the right safety seat should an accident occur. Establishing car rules can also help you and your kids travel safely.
Keeping Your Pets Safe
If you frequently travel with man's best friend, these tips can help keep your pet safe as well as ensure that they are not distracting you while you are driving.
Distracted Driving Awareness Month
Every April, the National Safety Council launches a month-long initiative aimed at raising awareness about the dangers of distracted driving.
Do I Need a Distracted Driving Lawyer?
Our auto accident lawyers have extensive experience taking on distracted driving injury cases. We are well versed in distracted driving laws, know the specific information that needs to be collected to support your case, are in touch with experts whose testimony will be valuable in proving your claims, and genuinely believe that distracted drivers need to be held legally liable and accountable for the accidents they have caused. Having a knowledgeable professional on your side will help you be successful in recovering injury compensation.
Compensation for a Distracted Driving Accident
If you have sustained injuries in an accident caused by a distracted driver, you likely have incurred a great deal of expense as a result. You may be eligible to collect damages to cover your expenses. This includes your medical bills associated with the accident, cost of future medical care for your injuries, lost wages for time you had to take off work due to the accident, as well as pain and suffering. We can help you get the compensation you deserve.
Contact a Distracted Driving Accident Lawyer Today
If you have been in an accident caused by a distracted driver, contact a lawyer today. The distracted driving accident lawyers at Gordon & Partners are available now to discuss your case. Let us aid you in your efforts to seek compensation for your accident injuries.
Get started today by completing the Free Case Evaluation form or calling 1 (855) 722-2552.