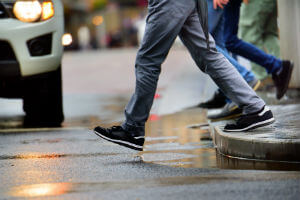 Pedestrian accidents result when a car collides with a pedestrian often causing very serious injuries or death. Medical expenses to treat the injuries are often steep. Recovery may be possible for a pedestrian who is injured in an accident of this nature, but the amount of compensation is based on who was at-fault for the accident and breached his or her duty of care.
If you or a loved one was injured in a pedestrian accident, contact a knowledgeable West Palm Beach car accident attorney at Gordon & Partners for assistance. Our skilled legal team can discuss the specific circumstances surrounding your case and discuss whether you may have a viable claim for compensation against the at-fault party.
What Is a Pedestrian?
A pedestrian is any person on foot. Under Florida law, this does not include cyclists. However, it does include people walking for leisure or transportation and joggers. Motorists must keep a proper lookout for pedestrians when driving.
Florida's Pedestrian Laws
Just like motorists, pedestrians have certain rules that he or she must follow. Some rules include:
The pedestrian must follow traffic control signals at intersections
Pedestrians must walk on sidewalks when they are available and avoid walking on the roadway
If no sidewalk is available, pedestrians must walk on the shoulder on the left side of the roadway so that he or she is facing traffic
Pedestrians should not run into the path of a vehicle
Pedestrians crossing a roadway that is not in a crosswalk must yield the right-of-way to vehicles on the roadway
Pedestrians have a legal obligation to act in a careful manner and to try to avoid accidents.
Which Party Breached its Duty of Care?
In order to determine which party may be entitled to compensation, insurance adjusters try to establish fault in the accident. The motorist may be at-fault if he or she was not driving in a safe manner or was distracted. If the pedestrian was not following pedestrian rules, he or she may be to blame. If the pedestrian's own negligence did not outweigh that of the driver or other party, he or she may still be able to recover damages based on comparative fault principles.
Comparative Fault
It is possible that the driver and the pedestrian may both be partially at-fault for the accident. If this is the case, the amount of compensation the pedestrian receives is reduced by the percentage of his or her degree of fault. This principal is known as comparative fault. For example, if you were at-fault for 10 percent of the accident that resulted in $100,000 in damages, you cannot recover $10,000 of this award.
What If Both Parties Are At-Fault?
To establish a right to recover compensation for an accident, you must establish the four elements of negligence:
Duty of Care
The duty of care is the legal duty that one person owes another. In pedestrian accident cases, this is based on the motorists' duties, as well as the duties of others such as the pedestrian or the governmental entity responsible for maintaining traffic signals. Additionally, there is a general duty of care to act as a reasonable person and to take steps to avoid accidents.
Breach of Duty
The next element you must prove is that the at-fault party breached his or her duty of care. A breach may occur by breaking the law, not following traffic rules or by failing to exercise reasonable care. A jury often determines whether the other party breached his or her duty of care.
Causation
You must prove that the other party's actions were the direct cause of your injuries. It must be proven that had it not been for the at-fault party's actions, you would not have been injured. Additionally, you need to show that the other party could have reasonably foreseen his or her actions resulting in harm.
Damages
You must also show that your injuries lead significant damages as a result of the at-fault party's actions. This includes any medical bills or lost wages since the accident.
Contact Gordon & Partners
If you have been involved in a pedestrian accident as a result of negligence, it is in your best interest to contact a skilled attorney for help with your claim.
At Gordon & Partners, our West Palm Beach personal injury lawyer s have helped many injured victims obtain the compensation they deserve against the at-fault party.
We can discuss the specific circumstances surrounding your claim during a risk-free, no obligation consultation. We will learn about your case and discuss the legal options available to you. Our firm only charges if we help you recover adequate compensation.
Fill out our Free Case Evaluation form or call 1 (855) 722-2552 to find out how we can help you.