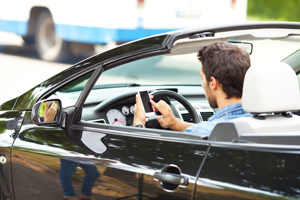 Last month, the National Highway Traffic Safety Administration (NHTSA) released guidelines encouraging portable and aftermarket device manufacturers to produce products that help prevent distracted driving.
This is the second phase of the NHTSA's voluntary guidelines aimed at addressing the growing issue of driver distraction on roadways throughout the U.S. The first phase focused on devices built into vehicles during the manufacturing process.
Manufacturers are encouraged to incorporate features into their devices that reduce driver distraction. The NHTSA recommends features such as a simplified Driver Mode and pairing capabilities, which link the device to onboard infotainment systems, to help keep drivers focused on task of driving.
Each day distracted driving kills eight people and injures another 1,161. The NHTSA hopes that by working directly with device manufactures, it can help cut distractions available to drivers who are reluctant to put down their devices.
In addition to using simplified, non-distracting devices, the NHTSA says drivers can reduce distraction by:
Putting away cellphones altogether when driving
Programing GPS systems with intended destinations before beginning to drive
Always wearing a seatbelt
Passengers can also help reduce driver distraction by offering to send a text or make a call for the driver so he or she does not have to take their eyes from the road to use a cellphone.
Distracted driving is a serious threat to all drivers and can lead to devastating injuries and even death. The car crash lawyers at Gordon & Partners can help you fight for the justice and compensation you deserve if you have been injured or lost a loved one because of a distracted driver.
Call 1 (855) 722-2552 for a free, no obligation consultation.