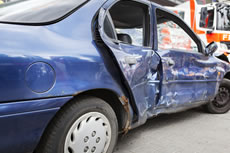 Thomas Moore, the 25-year-old driver involved in a fatal car accident on Saturday morning, was driving 88 miles per hour in a 25 mile per hour zone. Police suspect that alcohol may have been a factor in the crash.
The accident occurred in the morning hours on the 100 block of Sherwood Circle in Jupiter. Moore was driving more than three times the speed limit and lost control of the car. The vehicle veered off the road and smashed into a tree. Despite the damage, it continued on and crashed into another tree and caught fire.
Although Moore was able to exit the vehicle before it caught fire, his passenger, Travis Gay, was killed. Moore was taken to St. Marys Medical Center and is in serious condition. Charges against him are pending.
Police say Moore was not only speeding, he was also driving with an expired license and may have been intoxicated.
The attorneys and staff members at Gordon & Partners extend their sincerest condolences to the Gay family. No family should ever have to suffer the loss of a loved one due to the careless actions of a negligent driver.
If someone you love was injured or wrongfully killed in an auto accident, you may be entitled to file a wrongful death claim. Our auto accident attorneys can help you determine what your legal options are and help you get the justice you deserve.
For a free case review, call us today at 1 (855) 722-2552 and speak to a personal injury lawyer , or fill out our Free Case Evaluation form.