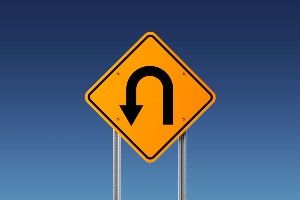 A U-turn is one of the most dangerous driving maneuvers to perform behind the wheel. Drivers making a U-turn must make sure there is enough time to make the maneuver without impeding oncoming traffic.
Unfortunately, it may not always clear who is to blame in an accident involving a driver making a U-turn. Several different factors will need to be evaluated, such as whether the U-turn was legal and safe to execute and who had the right of way when the crash happened.
If you have questions about who may be to blame for your U-turn crash, Gordon & Partner's car accident lawyers in West Palm Beach are here to help. Let us review your situation and discuss your legal options during a free consultation. There is no obligation to hire our firm after this meeting.
Why Are U-Turns So Dangerous?
When you make a U-turn, you are crossing lanes of traffic in order to complete the maneuver. If the lanes are too narrow, you may find yourself having to make a three-point turn. You may have to back up and readjust your angle if there is insufficient clearance to perform the maneuver. This can be very dangerous at an intersection when the light is ready to turn and traffic is heading in your direction.
U-turning drivers have the risk of not just getting hit by oncoming traffic, but also drivers turning right. A driver making a U-turn and a driver making a right turn often do not pay attention to one another, which can put both drivers at risk of being in a serious crash.
A U-turn accident can happen when a driver fails to make a sharp enough turn and gets sideswiped by a vehicle in the adjacent lane he or she was turning into. A U-turning driver may even get rear-ended or hit in the side by an oncoming vehicle if he or she did not have enough time to make the maneuver.
When is a U-Turn Legal in Florida?
Florida law only allows drivers to execute a U-turn under the following conditions:
The driver must be able to make the turn safely
The maneuver cannot interfere with other traffic
Traffic control signs do not prohibit a U-turn in the area
Making an illegal U-turn is considered a moving violation. If you were seriously injured in an accident with a driver who violated this traffic law, you may be able to pursue a legal claim against him or her.
What About Making U-Turns at Intersections?
Florida drivers who have a green light or green turn signal have the right of way over drivers who have a red light. The general rule is that if you are making a legal U-turn at a green arrow, a driver on the cross street must wait until you complete the maneuver before turning right on red.
However, an intersection may have signal timing errors. This can make it hard to know who has the right of way. For instance, a driver making a U-turn and a driver turning right from a cross street may both have a green arrow at the same time. If a crash happens, it can be tricky to know who was supposed to yield and who was legally allowed to go first.
If a driver makes a U-turn at a red light, they are violating a traffic law and could be held liable in an accident. Drivers who want to execute a U-turn at a red light must first yield the right of way to oncoming traffic. Drivers must stay in the closest lane when making a U-turn and not cut across traffic.
Determining Fault in a U-Turn Accident
Determining fault in any crash is not always straightforward. A number of factors come into play.
In some cases, the driver making the U-turn may be to blame if he or she failed to proceed with caution and the maneuver was not done in a safe manner. Other times, the other driver involved may be to blame if he or she was speeding, ran a red light or was driving while distracted or impaired.
Both drivers may even share partial responsibility for the accident. In these situations, Florida's comparative negligence statute will not bar you from being able to recover compensation but any amount potentially awarded will be reduced according to your degree of fault for the crash.
An experienced lawyer can help establish fault by reviewing state and local laws to assess if the driver made an illegal U-turn. An accident reconstruction expert may even be used to put together the events that led up to and caused the accident, if negligence was involved and who may be liable for damages.
We Are Available 24/7 to Take Your Call
If you have suffered an injury due to another's wrongdoing, our lawyers at Gordon & Partners are available to assist you. You may be eligible to pursue significant compensation. Our firm has a proven track record, recovering millions of dollars on behalf of our clients since 1993.
An initial consultation comes at no cost or obligation to you. We do not charge upfront fees to retain our services and no fees unless we help you recover compensation for your losses.