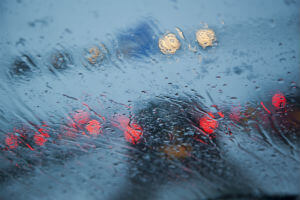 The summer and early fall months typically bring a lot of rain to the South Florida region. Daily afternoon showers and more severe weather associated with tropical weather can complicate driving and increase the risk for auto accidents.
To protect yourself and others on the road from wet-weather accidents, follow these tips for safe driving in the rain.
1. Prepare Your Vehicle
Before the rainy season approaches, and especially before you set out for a drive in the rain, prepare your vehicle for inclement weather and ensure it is in good working condition.
You should:
Replace your windshield wipers regularly. If they are causing streaks or not clearing away water in one swipe, they need to be replaced. This can distort your vision, making it difficult to see obstacles in your path.
Check to ensure all lights and turn signals function properly. These are vital to being seen on the roads and warning other motorists if you are slowing down or planning to turn.
Check your tires regularly. Tires that have strong tread and are properly inflated will help you maintain traction on wet roads.
Check your brakes. This is an important factor in ensuring your vehicle is in good working order and will be able to stop when necessary. If you drive through heavy water, test your brakes lightly to make sure they are pulling evenly on all wheels before building up speed again. This will also help dry them so they are ready for use.
2. Slow Down
One of the most important safety tips for driving in rain is to slow down as you should only drive at a speed that is reasonable for the conditions of the road. According to Florida Statutes §316.183, it is unlawful to drive at a speed that is not appropriate for the current hazards on the road, including weather.
Furthermore, driving too fast for a wet road could cause you to be found partially at fault for causing an accident, which will reduce your compensation from an insurance claim or personal injury lawsuit .
Additionally, it takes longer to safely slow down and come to a complete stop on wet roads, so you need to give yourself plenty of time and space to do so.
Slowing down will help reduce your risk of hydroplaning, which occurs when a vehicle's tires lose contact with the road because of water between the surface and the wheel. This causes the car to skid or slide on the water, which results in lost steering, braking and power control.
The faster you drive, the harder it is for your tires to displace the water from under your tires.
3. Maintain a Safe Distance
The standard following distance between two vehicles is three seconds. However, in the rain, that distance should be increased as it will take a greater distance to slow down safely.
This rule is especially important when following large trucks and vehicles. Following too closely can cause the spray from their tires to impede your vision.
When approaching an intersection, take your foot off the accelerator and allow your vehicle to begin slowing at an earlier rate than you would in dry conditions. You should try to avoid slamming on your brakes, as this increases your chances of hydroplaning.
4. Do Not Use Cruise Control
Although most vehicles have cruise control, it should not be used when roads are wet.
Using cruise control on wet roads could increase the risk of losing control of your car. In most situations, if you begin to lose traction, you will lift your foot off the accelerator so your vehicle will gradually begin to slow. However, this option is not available when cruise control is in use.
Forgoing cruise control also forces you to focus solely on driving, which will allow you to better react to dangerous wet driving situations.
5. Turn on Your Lights
Florida Statute §316.217(1)(b) requires that all vehicles operated on a highway display "lighted lamps and illuminating devices," or vehicle lights, during rain, smoke or fog.
This is especially important because these conditions can significantly reduce visibility. To ensure your vehicle is seen by others sharing the road, always turn on your lights during a rain storm.
However, Florida law very clearly states that using flashing lights is prohibited except if the vehicle is lawfully stopped or disabled on the highway.
Legal Help After a Car Accident in the Rain
Unfortunately, despite all of your preparation and caution while on the road, other drivers may not be as careful while driving in the rain.
If another's negligence causes your accident, you may have legal options and may be entitled to compensation for your pain and suffering, medical expenses, and other costs associated with your injuries.
Contact Gordon & Partners today to learn more about how we can help you. We provide our services on a contingency fee basis and will not charge you anything unless we recover compensation for you.
Call 1 (855) 722-2552 or complete a Free Case Evaluation form today.