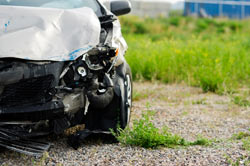 Patricia Lee Pereira, 72, is in critical condition after being flown to St. Marys Medical Center following a three-vehicle accident in West Palm Beach on Saturday, Dec. 27.
Pereira was driving eastbound on Southern Blvd. when her vehicle was struck by a car driven by Cristian Camilo Osorio Naranjo. Naranjo was trying to turn left onto Carolina Drive from Southern Blvd. when the vehicle suddenly struck another car in the center lane. Naranjos vehicle spun out into the westbound lanes of Southern Blvd. and struck Pereiras car.
Rescue crews had to cut Pereira out of the vehicle. Naranjo and his passenger sustained minor injuries during the incident. All parties involved in the wreck had been wearing seatbelts at the time of the crash.
No charges are pending in the accident and it does not appear that drugs or alcohol played a role in the crash.
The team of car accident attorneys at Gordon & Partners would like to wish Pereira a speedy recovery. We understand how devastating an accident can be not just for the victim, but also for their family.
Life can change in a split-second when an accident occurs. When you need the legal strength to fight back for what was taken from you, trust the attorneys at Gordon & Partners. Our experienced personal injury lawyer s in West Palm Beach can help you determine what your legal options are and if you are entitled to compensation for your losses.
For a free review of your claim, call 1 (855) 722-2552 or fill out our online evaluation form.