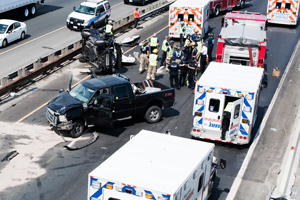 Police in Boca Raton are investigating an auto accident that killed a pedestrian this weekend in the 600 block of South Federal Highway.
According to a police report, a 2005 Ford F-150 was heading southbound on South Federal Highway, approaching the intersection of East Camino Real, when it struck and killed pedestrianElourdes Ostagne.Authorities say the F-150 was attempting to pass a 2012 Nissan Altima when the driver lost control and hit the victim.
This tragedy is a reminder that pedestrian accidents are a common occurrence and often result in tragedy. On average, about 5,000 pedestrians are killed across the country each year.
Pedestrian Safety Tips
Pedestrians should always be especially careful at intersections, where drivers may fail to yield the right-of-way to pedestrians while turning onto another street.
Always be aware that drivers have differing levels of eyesight and skill in operating motor vehicles.
When crossing the street be aware of your surroundings and dont use your cell phone for calls or texting.
If sidewalks are not available, walk facing traffic on the edge of the road, as far from the travel lane as possible.
Be careful around driveways. Even though you are on the sidewalk, a vehicle turning in or out of the driveway must cross the sidewalk and the driver might not be aware of pedestrians.
Parents, walk the routes to school with your children. Show them the proper places to cross and how to stay safe. Do the same for other walking routes your children use.

If possible, avoid walking and crossing the street in the dark. If you must do so, wear brightly colored or reflective clothing.
Have you or someone you loved suffered a pedestrian injury?
Have you considered to start looking for a personal injury attorney in West Palm Beach?

Contact Gordon & Partnerstoday to learn more about the legal rights afforded to accident victims.We offer pedestrian accident injury victims 100% FREE case reviews and you wont owe us any fees or costs if we are unable to recover financial compensation for you.
Call 1 (855) 722-2552, or use the Free Case Evaluation form today.