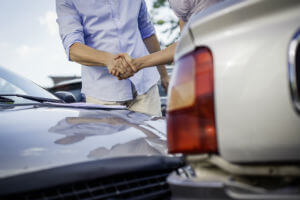 Many car accidents occur in parking lots and not on busy roadways, especially during the busy holiday shopping season. Because cars are often going in different directions, it is not always clear who has the right-of-way. This can make it difficult to determine who is at fault in a parking lot accident.
Our West Palm Beach car accident lawyers have decades of experience investigating accident scenes, identifying all potential liable parties and pursuing maximum compensation for our clients.
Driver Negligence in Parking Lots
Liability in parking lot accidents comes down to which driver was negligent or careless. There are two factors to help determine this:
Was the Car Moving?
If only one car is moving at the time of the accident, its driver is usually found entirely or mostly at fault for the accident. If one vehicle is legally parked and another hits it, the driver of the moving car will likely be found negligent and responsible for the accident.
Who Had the Right-of-Way?
If both vehicles are moving, one driver usually has the right-of-way based on traffic patterns, so the other driver may be found at fault for not respecting the right-of-way.
Other common forms of negligence may be at play in a parking lot accident, such as a driver speeding or failing to yield at a stop sign.
Common Parking Lot Accidents
Accidents in parking lots happen all the time. Some of the most common reasons these accidents occur include:
Two vehicles back into each other while exiting parking spaces – In these accidents, both drivers are backing out of different spaces. They might not be looking for other vehicles or may not see the other driver if he or she is in a blind spot. Since both drivers were moving and neither had the right-of-way, both drivers may be found equally at fault.
A driver backs into an oncoming vehicle – In other accidents, a driver might back out of a parking space and hit a vehicle that is moving in the lane of traffic. Since the driver leaving the parking space must yield the right-of-way to moving vehicles and must wait for a safe time to back out, the driver leaving the parking space is usually found liable for these accidents.
A driver pulls forward into oncoming traffic – In this type of accident, a driver pulls forward out of a parking space and into the lane of moving traffic. Since the driver leaving a parking spot must yield to existing traffic, the driver pulling out of the parking space may be found at fault. However, if the driver traveling down the lane of traffic was speeding, was distracted or otherwise negligent, the driver may share some liability for the accident.
Two vehicles vying for the same parking spot collide – Sometimes two drivers may both spot an open parking space and try to park in it at the same time. Both drivers may be found at fault for this type of accident. However, the driver who was turning left at the time of the accident may be found more at fault since he or she failed to yield.
How Insurance Companies Determine Fault
Insurance companies evaluate all evidence related to the accident in an effort to determine fault. If there is surveillance footage, the insurance company may review it. The insurance company can also review the statements of both drivers, witness statements, any pictures of the scene and the location of damage on each vehicle to determine how the accident occurred.
However, it is important to remember that insurance adjusters will try everything possible to deny or minimize the value of the claim so that it can pay out less money. The adjuster will try to look at the evidence in a way that favors their insured.
Avoiding a Parking Lot Accident
Fortunately, there are steps you can take to reduce the risk of a parking lot accident. These include:
Slowing down while traveling through a parking lot
Setting your side mirrors so that you minimize blind spots
Using your vehicle's technology to safely leave a parking space
Using turn signals to indicate your intentions
Looking multiple times before backing up for other vehicles, pedestrians or shopping carts
Obeying all parking lot signs
Discuss Your Claim With Our Legal Team
If you were injured in a parking lot accident, the knowledgeable lawyers at Gordon & Partners can discuss your rights during a free consultation. You may be able to recover compensation for any damages suffered, such as medical expenses, lost earnings, and pain and suffering.
Since we work on a contingency fee basis, you are charged no upfront fees and you only pay for our services out of any financial recovery you receive.
Call 1 (855) 722-2552. We are available 24/7.