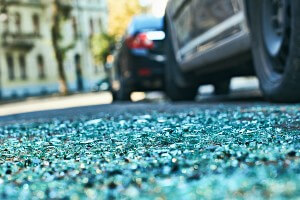 If someone hit your parked car, you may be unsure about what to do next, especially if you sustain significant damage. It is important to document the accident by calling the police and notifying your insurance company of the incident. From there, you may want to consider seeking legal representation to help you gather supportive evidence and seek maximum compensation.
Our attorneys at Gordon & Partners are ready to help you file a claim, handling every step of the process on your behalf. An initial consultation comes at no cost or obligation to you. We only get paid if we help you obtain compensation. Visit our client reviews page to learn what our clients have to say about us.
Different Ways a Parked Car May Get Hit
Several factors can cause drivers to hit parked cars:
A driver may be distracted, intoxicated or fall asleep behind the wheel and collide with one or more cars parked on the side of the road.
A driver may misjudge the passing clearance and strike the side of a parked car. This can happen when he or she is unfamiliar with the car being driven or is forced to get too close to an oncoming car.
The driver of the moving car may have a medical emergency, such as a seizure, and lose control of his or her vehicle and hit a car parked on the street.
A driver may take evasive action to avoid hitting someone running into the street and hit a parked car in the process.
Sometimes the driver may be inside his or her parked car when hit by another driver. If you are parked on the shoulder because your car broke down or you got a flat tire, there is always a risk of being hit by another driver. A driver may also fail to check his or her blind spots and back into your car while parked in a lot or garage. A parked car may also get hit as a driver is turning into an adjacent parking space.
Am I Covered if Someone Hits My Parked Car?
You will need to go through your own insurer to file a claim. Depending on your policy, your insurer may help with the costs to repair your car. If you purchased the following additional coverage in the event of an accident, it may offer some protection if someone hit your parked car:
Collision coverage – This type of coverage may apply if you need to repair or replace your car if hit by another driver. It pays regardless of who is at fault.
Uninsured/underinsured motorist coverage – This type of coverage may apply if your car is damaged by a driver who is uninsured or does not have enough insurance to pay for your damages.
Although not required by law, many Florida drivers obtain these coverages in addition to the mandatory PIP and property damage liability insurance. Your coverage will also be subject to your policy limits, which is the maximum amount your insurer is willing to pay for your claim.
What if the Driver Responsible Fled the Scene?
It is illegal for anyone to hit your car and then leave the scene without contacting the police or leaving you his or her contact information. This will be classified as a hit-and-run accident.
Your insurer may consider the fleeing driver as uninsured. If the driver cannot be located, your uninsured motorist coverage could help pay for some of your losses. If the driver is found and your damages are significant, you may be able to file a legal claim against him or her to recoup your losses.
Some states have different hit-and-run penalties based on whether the accident led to bodily injury, property damage or both. In Florida, if a driver hit your parked car and then fled the scene, he or she could face:
A second-degree misdemeanor charge
Getting his or her driver's license revoked
A $500 fine
Up to 60 days in jail
Building Your Case if You Sustain Significant Damage
If you decide to take legal action against the other driver, our firm is here to help every step of the way.
There are several important steps you can take to begin building your case after you discover someone hit your parked car. This includes:
Calling the police to make a report. Florida drivers are required to report an accident if there is more than $500 in property damage.
Taking close-up and wide-angle photos of the damage done to your car. This damage may include side panel scratches and dents, fender or bumper damage, bent or smashed side mirror, shattered windshield, broken side windows, or smashed lights. Be sure to document any other evidence surrounding your car, such as skid marks or debris.
Obtaining the driver's contact and insurance information if he or she remained on the scene.
Informing your insurer of the incident. We can also help communicate with any insurer on your behalf to make sure that you obtain the maximum compensation available for your damages.
Our Licensed Attorneys Are Ready to Help You
Do not hesitate to get the legal help you need. Our licensed automobile crash lawyers in West Palm Beach are ready to tell you more about your options and help you get started with your claim.
Reach out today for a free consultation. There is no risk or legal obligation involved. If your claim has merit, you will not have to pay any upfront fees. We do not get paid unless you get paid.