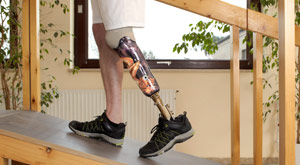 Accidents that result in the amputation of a limb or the loss of a limb can create life changing circumstances for not only the victim, but also for their family, loved ones and other dependents.
When that injury occurred due to the negligence of another person, feelings of loss and anguish can be significantly magnified.
Have you or someone that you know required a limb to be amputated after being involved in an accident that was caused by another individual?
Did you know that in a recently released study by the Amputee Coalition of America, there are approximately 1.2 million people living with a lost limb currently in this country, according to the Amputee Coalition of America?
At the law offices of Gordon & Partners, our personal injury lawyer s understand that trauma and struggles that amputee's often face and believe you deserve both compassion and compensation for your condition.
If you have been injured in an accident that was not your fault, you could be entitled to compensation under Florida law for your condition. However, there may be time limits associated with the filing of your claim.
To begin exploring your legal options, contact our attorneys today by calling 1 (855) 722-2552 or by completing the Free Case Evaluation form to the right and let us discuss your legal options.
We proudly offer complimentary consultations and you won't owe us any fees or costs if we are unable to recover financial compensation for you.
Trauma-Related Amputations
Amputation and Loss of limb accidents are typically caused by serious auto accident s; however, they can also be caused by an on-the-job accident or medical malpractice. Even though around the world trauma is the leading cause of amputation, in the United States, most amputated limbs are a result of vascular diseases.
Several complications can result from a radical amputation procedure, including:
Many car accident victims who have lost a limb experience something that is called "phantom limb sensations." Some victims even experience pain where their limb used to be. Victims who suffer from phantom limb sensations often suffer from psychological trauma.
Treatment Options for Lost Limbs
With advances in prosthetic technology and a better understanding of the management of traumatic amputation, the long-term outcomes for amputees has improved significantly in recent years.
In some cases, a severed limb can be reattached following accidental amputation, especially when proper care is taken for the stump and injured limb immediately after the accident.
Replantation techniques for new limbs have had moderate success, but incomplete nerve regeneration remains a serious limiting factor in this form of treatment.
Traumatic amputees often have better results with a well-fitting and functional prosthesis as opposed to a nonfunctional replanted limb.
Advanced treatment comes at a price. Many victims find themselves faced with mounting medical expenses incurred from the treatment of their condition. If you or a loved one lost a limb due to the actions or negligence of another, you may be able to receive financial assistance to help cover the costs. Simply complete the Free Case Evaluation form on this page to contact our attorneys who may be able to help you with your claim.
Contact a Knowledgeable Florida Attorney Today
It is always a tragic situation when you or a loved one loses a limb in an accident or if you were so seriously injured that one of your limbs had to be amputated.
However, instead of worrying about how you will be able to afford the expensive medical procedures required to treat this type of injury, let our attorneys fight to ensure your financial security by holding the responsible parties accountable for your condition.
For more than three decades we have been helping to defend the rights of the injured in South Florida and have recovered more than $500 MILLION in compensation claims on behalf of our clients.
With a number of offices in the Tri-County region, we are committed to providing legal solutions to injury victims throughout the region.
To find out how we can help with your compensation claim, call us today at 1 (855) 722-2552 or fill out our "Free Case Evaluation" form and we will contact you shortly after we receive your inquiry.
At Gordon & Partners, we fight for the injured and only get paid when we win.