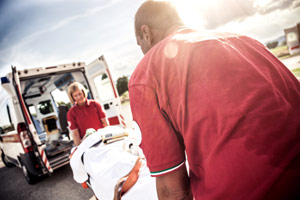 According to a recent report issued by the National Highway Traffic Safety Administration, nearly 28 percent of all fatal injuries in vehicle accidents involve passenger ejections.
While many of these victims are seriously injured while they are leaving the vehicle they are traveling in, ejected occupants are also at risk of being run over by other vehicles on the road.
Have you or someone that you know suffered a serious injury after being ejected from a vehicle?
Are you aware that you or that injury victim may be able to seek legal action against the negligent party responsible for the accident?
At the law offices of Gordon & Partners, our team of auto accident lawyers offer free consultations to help review the details of your claim and can guide you through the entire personal injury litigation process.
To learn more about your legal options, contact us today by calling 1 (855) 722-2552 or simply fill out our "Free Case Evaluation" form and we will contact you shortly after we receive your inquiry.
We proudly fight for the rights of the injured and only get paid when we win.
Causes of Occupant Ejections
Automakers have designed passenger vehicles to come equipped with many safety devices to protect passengers. Sometimes these devices can fail during an auto accident causing the occupant to be ejected from the vehicle.
Vehicle occupants can be ejected in almost any type of crash; however, there are certain causes that increase a passenger's chances of being thrown out of the car.
Listed below are some common factors that can contribute to an occupant ejection:
Rollover crashes
Faulty door latches
Defective seatbelts
Weak window glass
If you believe any of the factors above contributed to your occupant ejection, you may be able to file a legal claim. Contact Gordon & Partners today to explore your legal options.
Common Occupant Ejection Injuries
Individuals can suffer incapacitating injuries from a partial or complete vehicle ejection. It is not uncommon for accident victims to sustain the following injuries from an occupant ejection:
Broken bones
Lacerations
Back and neck injuries
Head injuries
Paralysis
Brain injuries
Treating occupant ejection injuries can be expensive and time consuming. If you have been injured in a Florida auto accident, you may have grounds to file a lawsuit.
To find out if you're eligible to file an auto accident claim, fill out the contact form on the right-hand side of the page or call our attorneys today at 1 (855) 722-2552.
Types of Occupant Ejections
Auto experts divide occupant ejections into two groups, partial ejections or total ejections:
Partial ejection- When a vehicle occupant is thrown forward but their body is not completely ejected from the car, this is considered to be a partial ejection.
Total Ejection- A total ejection accident occurs when the driver or passenger is completely thrown out of the vehicle upon impact. Vehicle occupants are at risk for being run over by other vehicles after a total ejection.
Occupant Ejection Statistics
SafeRoads.org reports that 9,000 people are killed and another 20,000 are injured from vehicle ejections every year. Over the past 25 years, vehicle ejections have caused 200,000 fatalities.
According to the NHTSA, 75 percent of all occupant ejected from the motor vehicle will suffer fatal injuries.
In 2010, there were 1,450 traffic fatalities in Florida; more than half of the people killed were not wearing a seat belt at the time of the crash.
Contact a Florida Lawyer
Occupant ejections can cause serious and life-altering injuries that can take years to recover from.
With this in mind, Gordon & Partners urges all accident victims to seek legal counsel immediately after a crash. A knowledgeable lawyer from our firm can advise you on your legal rights and in the event of being eligible to file a claim, we inform you if there are lawsuit filing time limits for your damages lawsuit.
our lawyers have litigated all types of auto accident case and are available to assist injury victims throughout South Florida.
To learn more about your legal options or to schedule a free case evaluation with a member of our legal team, complete the "Free Case Evaluation" form on this page or call us at 1 (855) 722-2552.
At Gordon & Partners, we offer 100% FREE case reviews and only get paid when we win.