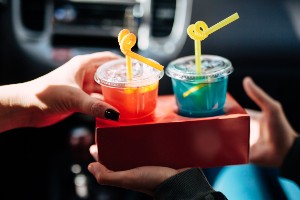 Florida has certain state laws prohibiting drivers from having open containers of alcohol in their vehicles or consuming alcohol while driving behind the wheel. Violating any one of these laws could significantly impact a person's ability to pursue a settlement or lawsuit if involved in a serious car accident.
Gordon & Partners discuss several alcohol driving offenses that can come up in a car accident case. Victims injured by a drunk driver may have the right to take legal action for their damages. Our firm is prepared to guide you throughout the legal process to seek maximum compensation on your behalf.
An initial consultation with a member of our legal team is 100 percent free and confidential. If you have a valid case, our services are provided at no upfront cost to you. We only get paid if you get paid.
Understanding Florida's Open Container Law
Under Florida Statute 316.1936, it is illegal to have open containers of alcoholic beverages in vehicles. Many people assume that if they are not the one driving a vehicle or have a designated driver, that they can drink alcohol in the vehicle. However, this is not the case. Florida's open container law states:
It is illegal for any person to have an open container of an alcoholic beverage or consume an alcoholic beverage while operating a vehicle or while as a passenger in a vehicle
It is illegal to have an open container of an alcoholic beverage or consume an alcoholic beverage while seated in or on a vehicle that is parked or stopped within a road
Additionally, an open container that is not in the possession of either the passenger or the driver or is not locked in a glove compartment or another locked area of the vehicle will be considered in the possession of the operator of the vehicle. However, this statute does not apply to the following:
A passenger in a vehicle where the driver is contracted to provide transportation and the driver carrying the passenger has a valid commercial driver's license
A passenger in a bus where the driver carries a commercial driver's license
A passenger in a self-contained motor home greater than 21 feet in length
Penalties for Open Container Violations
Driving with an open container of alcohol in Florida is considered a moving traffic violation. Three demerit points will be added to a driver's license and stay there for 36 months or three years. If up to 12 points are accumulated on a driver's license, that license could be suspended or revoked.
Open container offenses under a city or county ordinance may also result in fines or possible jail time. If a person has a past driving conviction, it could impact his or her right to compensation in a car accident case.
Alcohol-to-Go Sales Signed into Law
A new beverage law that went into effect on July 1 now makes it legal to get alcoholic beverages to-go with your take-out or food delivery. The beverages cannot be opened or consumed inside a vehicle.
As long as 40 percent of the total order includes food or non-alcoholic beverages, the law allows you to take alcoholic beverages home. The restaurant must have a special alcoholic-beverage license and derive at least 51 percent of its revenue from food and non-alcoholic sales.
The new law also allows people to take the rest of a wine bottle home after eating in at a restaurant. However, the bottle must first be resealed by restaurant staff and placed in a sealed bag. Wine bottles can only be transported in a locked container, trunk or in the back seat of a vehicle.
Drinking and Driving in Florida
Florida is a zero-tolerance state when it comes to drinking and driving. It is illegal and comes with severe penalties. The laws are even more strict for drivers under the age of 21.
Driving while intoxicated is a crime. If a drunk driver causes serious injuries in a car accident, it is a third-degree felony. The driver could face up to five years in prison. If the car accident results in a death, it is a second-degree felony. The drunk driver could face up to 15 years in prison. DUI is a form of negligence.
Although Florida is a no-fault auto insurance state, which means injured victims must first rely on their own insurer to cover damages, drunk driving cases are different. These car accidents often cause significant injuries. Liability limits may not be enough to pay for medical costs, loss of income and ongoing care. This is why many accident victims pursue claims with the at-fault driver's insurer.
It is important to have an experienced attorney during this entire recovery process. It is common for insurance companies to issue lowball offers or pressure accident victims into accepting less compensation than they may be eligible to receive. The drunk driver also may have little to no insurance to cover all your losses.
Decades Protecting Rights of Accident Victims
Our vehicle collision attorneys in West Palm Beach are ready to fight for your rights after being injured in a car accident with a drunk driver. We know what it takes to build a strong case for compensation. To date, we have recovered millions of dollars on behalf of clients wronged by another's negligence.
We offer a free, no-obligation consultation. You do not have to retain our services even after we determine that you have a case. However, if you do, we charge no fees to take or work on a case.