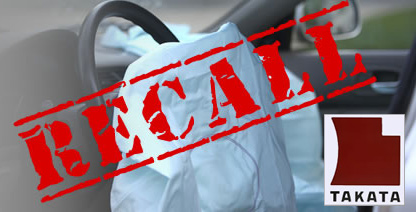 Carlos Solis IV was fatally wounded in a collision in Texas last month. It has been revealed that Soliss fatal injuries were caused by the Takata airbag that exploded in his Honda Accord.
Solis, the father of two teenagers, purchased the silver Honda Accord in a Texas used car lot in April 2014. The vehicle had two previous owners, had been involved in two car accidents and was recalled in 2011. Unfortunately, Solis had not been notified of the recall.
Sam Atia, the owner of All Stars Auto Sales in Cypress, Texas, said he didn't know the car had been recalled. Furthermore, car dealers are not required by law to get used vehicles that have been recalled repaired before selling them. Atia said he gave Solis the vehicle VIN so he could check the vehicle history.
Unfortunately, the lack of oversight in vehicle recalls and repairs means that many cars are legally purchased, sold, titled and retitled, and able to pass safety inspections with outstanding recalls. In late 2014, approximately 46 million vehicles on the road had outstanding recalls, including those with Takata airbags and the General Motors faulty ignition switch.
Some government officials are pushing for legislation that would hold car dealers more accountable. The Transportation Department has proposed a new rule that would require used car dealers and rental-car companies to perform recall repairs. Honda is also suggesting that owners of vehicles with outstanding recalls be denied new registrations until they fix their vehicles.
AutoNation, based in Fort Lauderdale, Florida, voluntarily stopped selling used vehicles that had unrepaired recalls in June 2014 but thousands of used car lots are still selling potentially dangerous vehicles to the public.
Solis was never notified of the recall, and on Jan. 18 he was involved in a relatively minor collision that resulted in minimum damage. The airbag in Soliss vehicle deployed and the inflator exploded, sending bits of metal into Soliss neck. He died at the scene of the crash.
The Takata airbag recall lawyers at Gordon & Partners have been following the Takata recall news closely. We believe that corporations whose negligence leads to injuries and fatalities need to be held responsible for their recklessness.
If you or someone you love was injured by an exploding Takata airbag, a personal injury attorney can help you get the justice you deserve.
Call 1 (855) 722-2552 or fill out our Free Case Evaluation form for a free review of your Takata claim.