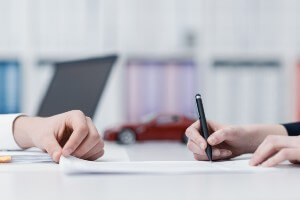 If your car is totaled in an accident and your car is valued for less than what you owe on your loan, the balance remaining needs to be paid. The balance could range from hundreds to thousands of dollars.
This is where gap insurance coverage could be beneficial. This optional form of auto protection is often overlooked but can save you in the long run. Many drivers may not be sure they have this coverage. Without gap insurance in the event of an accident, especially if your car is new or a newly used car, an already overwhelming situation could turn into a financial crisis.
Below, Gordon & Partners explains the way gap insurance works, when you should purchase it, and how it compares to liability insurance coverage. We have helped many accident victims since 1993 pursue maximum compensation for their damages. Set up a free consultation to get started.
How Does Gap Insurance Work?
If your car is deemed a total loss, gap insurance could help cover the difference between what you still owe on your car and what the insurance company will pay for your car. Loaned or leased cars are not considered totaled when they become damaged in an accident. These cars are declared totaled when the insurance company decides they are not worth getting repaired.
The insurance company will pay for the current, actual value of your car at the time of the accident if you have adequate coverage. To purchase gap insurance, most insurers will require that you carry comprehensive or collision coverage. Collision coverage pays for damage to your car and comprehensive coverage pays for damage not caused in an accident, such as theft, weather events, or falling objects.
Gap insurance could also protect you if your car is stolen, covering what is owed on the car that exceeds what the insurance company would pay from your comprehensive or collision coverage.
Why Purchase Gap Insurance?
In Florida, gap insurance can be purchased from your auto insurance provider or you can purchase a stand-alone gap insurance policy from a car dealership or lender. Gap insurance could help cover up to the full loan amount for your car in an accident regardless of your claim payout.
Other reasons to purchase gap insurance include:
Negative equity exists from the last car loan into a new car loan
Car has depreciated in value faster than what was owed on the loan
The car loan is being financed for five or more years
Down payments are less than 20 percent of the total value of the car
The car is being leased and bound by an agreement with a leasing company
While gap insurance may not be required by the state, it can be a financial lifeline for most drivers.
How Gap Insurance is Different From Liability Insurance
Unlike gap insurance, which covers loaned, leased or stolen cars that are totaled in an accident, liability insurance pays for damages or injuries that result from an accident, regardless of fault, and up to the policy limits. Florida drivers must carry a minimum coverage of:
PIP insurance helps cover injuries that you and your passengers suffer in an accident. This coverage also pays for lost wages if you are unable to return work because of your injuries and funeral expenses if an accident is fatal. PDL insurance helps cover property damage sustained in an accident.
Let Us Fight For Your Best Interests
Need legal help after an accident? A West Palm Beach car accident lawyer from our firm is here to help. We are available to review your claim in a no-cost consultation. You are under no obligation to retain our services after this initial meeting. We charge no fees if we represent you and no costs during the claims process. You only pay us at the end if we help you obtain compensation.