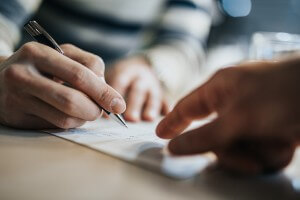 After a car accident in Florida, you typically need to file a claim under your own personal injury protection coverage to cover your losses, regardless of who caused the crash. If your injury is serious enough, you may be able to bring a claim directly against the at-fault driver to recoup compensation for your medical bills and other costs.
However, despite your claim being valid, the other driver's insurance company may refuse to pay for damages. This is where having legal representation may be beneficial.
Learn why some insurers refuse to settle claims, even if their policyholder is at fault for the accident. An initial consultation with a member of our legal team is 100 percent free and confidential. There is no obligation to hire us at any time. We do not get paid anything unless we help you win.
When Liability is Disputed
An insurance agent may dispute liability for a car accident in an effort to deny a claim. After completing their own accident investigation, the insurance company could argue that the responding officer was wrong to blame their policyholder for the accident. If they insist that their policyholder is not at fault, they may refuse to release any payment to you. The insurer may also shift the blame entirely on you.
The insurance company could even argue that neither party was to blame for what happened. They may claim that their policyholder had a defective car part or faulty repair work that caused the accident. His or her insurer may try to deny liability, arguing that a car manufacturer or repair shop is liable for your damages.
When Compensation is Disputed
An insurance agent may dispute compensation in a car accident claim. The insurance company may decide to pay a portion of your damages or refuse to pay for any damages if they believe that you are seeking more compensation than owed. For instance, the insurer could argue that your medical care costs were beyond what is considered reasonable and necessary.
The extent of injuries you sustained in the accident may also come into question. The insurer could argue that you have a pre-existing condition or that your injury cannot be directly linked to the accident. They may even argue that the costs for car repairs are too costly or took much longer to complete.
Settling Your Car Accident Claim
When the other driver's insurer will not pay for your damages, there are several things that can be done to reach a settlement and obtain compensation.
We recommend consulting with an experienced lawyer sooner rather than later. He or she will have the knowledge and resources to deal with these cases and can determine why an insurance company refuses to pay. A lawyer can also take care of communicating and negotiating with the insurance company on your behalf. Those who seek legal help often recover more in compensation than those who do not.
It is important to note that the timeline for settling a car accident claim will also depend on your particular circumstances. If a settlement cannot be reached for one reason or another, a trial may be necessary to help you secure fair and just compensation.
Let Us Handle Your Claim Dispute Today
Insurers often use several tactics to outright deny a claim or decrease the value of a claim. At Gordon & Partners, we have decades of experience helping many accident victims navigate the claims process. If you have a viable case, we are prepared to fight for maximum compensation.
Let a qualified West Palm Beach car accident lawyer from our firm review your situation during a free, no-obligation legal consultation. We charge no upfront fees to represent you and no fees while we work to help you obtain compensation.