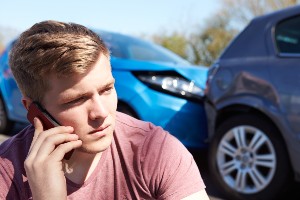 Getting hit by an uninsured motorist can leave you with a lot of questions: What do I do next? Will I still be compensated for my injuries? Should I hire an attorney?
When a driver does not have insurance and causes a crash, it can create a significant hardship for the victim. Recovering compensation to pay for your damages can be challenging. However, a car crash attorney in West Palm Beach can protect your rights and work with you to discuss your legal options.
The initial consultation is free of charge so there is no risk to you. If we determine that you do have a case, there is no obligation to hire our firm. The services we provide come at no upfront cost to you.
Recovering Compensation After a Crash With an Uninsured Driver
According to the Florida Insurance Council, one in five Florida drivers does not have insurance. This state has the sixth-highest rate of uninsured drivers in the nation.
Drivers who fail to carry insurance on their vehicles often cause crashes. Without liability insurance, who pays for damages caused to your vehicle, yourself and/or your passengers? There are several options to recover compensation for your injuries and losses after being hit by an uninsured driver.
Personal Injury Protection Insurance
All Florida drivers are required to have at least $10,000 in Personal Injury Protection (PIP) insurance. Your PIP policy may be able to protect you in a crash where you suffered injuries and losses. This includes a crash involving an uninsured driver. PIP can cover your damages – regardless of fault.
To recover compensation from your PIP policy, you must obtain medical treatment within 14 days of the crash. PIP insurance can help provide immediate financial assistance for the following:
80 percent of reasonable medical expenses related to the crash
60 percent of wages lost from missed work due to the crash
$5,000 for death benefits if you lost a loved one in the crash
PIP can provide coverage not just for you, but anyone living in your household, any passengers involved in the crash who do not own a vehicle, and anyone who is permitted to drive your vehicle.
It is important to note that in crashes that cause severe injury, PIP insurance will likely not be enough to fully cover your damages. You may need to look for other forms of insurance coverage that may be available.
Uninsured Motorist Coverage
Another option for recovering compensation is through your own uninsured motorist (UM) coverage. Florida drivers do not have to carry this coverage but is it in one's best interest for added protection.
Uninsured motorist coverage must be rejected in writing. Otherwise, it may be included in your insurance policy. This is why it is important to review your policy and know what is covered.
While you may be able to set your limits for UM coverage, this coverage generally equals your personal liability insurance limits (at least $10,000 in bodily injury per person or $20,000 per crash). If you are in a crash with an uninsured driver, UM coverage could help pay for your medical bills and other losses.
Examples of other losses include:
Income loss (beyond what PIP covers)
Loss of future enjoyment of life
Disability
Pain and suffering
Long-term care
Assistive medical devices
UM insurance may also cover replacement services for things you can no longer do (i.e. yard work), as well as sickness, disease or death resulting from a crash that you and/or your passengers and family members sustain. UM will even cover insured individuals who are hit while walking or riding a bicycle.
Filing a Lawsuit Against the Driver
If your injuries are severe enough, you may be able to file a lawsuit against the other driver. This is a path victims may choose if their PIP and UM coverage does not adequately cover their medical bills.
In order to recover compensation, you must prove that the uninsured driver was negligent. This requires evidence of the following:
The driver owed you a duty of care
The driver failed to meet this legal duty
The breach directly caused the crash
You suffered damages due to the crash
Unfortunately, if the driver has no insurance and minimal assets, getting your damages paid will likely be limited. You may be able to recover some compensation through a lump sum or payment schedule.
Injured in a Crash? Work With a Trusted Attorney
Recovering compensation after being hit by an uninsured driver has its challenges, but it should not stop you from fighting for your rights. Our trusted attorneys at Gordon & Partners can review your situation during a risk-free, zero-obligation consultation. This consultation comes at no cost to you.
If you have a case, we are ready to guide you through the option best suited for your needs. Our firm has a proven track record, successfully obtaining millions of dollars on behalf of our clients.