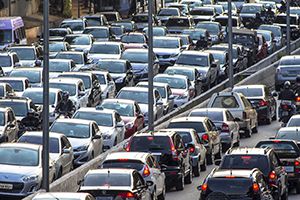 According to travel club AAA, a record 100 million Americans are expected to travel this holiday season. Some 5.2 million Floridians are expected to be among that total, traveling 50 miles or more from home.
Thanks to low gas prices and improvement in the labor market, this year will have the largest volume of travelers on record and will also be the seventh consecutive year of travel growth for the holiday season, defined as Dec. 23 through Jan. 3.
That marks a 1.9 percent increase in Floridian travel and a 1.4 percent increase in overall American travel over last year.
AAA is expecting 90 percent of travelers or 91.3 million to drive to their destinations, which is an increase of 1.4 percent from last year. Other modes of transportation will also see an uptick in travelers: air travel is expected to increase 0.7 percent, and trains, buses, and cruises will see a 2.4 percent increase.
Prepare for Holiday Traffic
With an increase in travel and congestion on the roads will also come an increase in accidents and car trouble. AAA expects to rescue nearly 900,000 motorists this holiday, mostly for dead batteries, flat tires and lockouts.
Florida drivers should also lookout for Florida Highway Patrol who will be out in full force to ensure safe travels throughout the holiday season. State troopers will be looking for drivers who are speeding, texting or driving while under the influence.
Police encourage motorists to expect congested roads and to plan accordingly by leaving early and being patient while traveling. Drivers should also remember the importance of never getting behind the wheel after drinking. Plan ahead with a designated driver or find an alternative route home if you have been drinking.
Gordon & Partners – a leading Florida personal injury law firm – would like to wish everyone a safe and happy holiday! If you are injured in an auto accident over the holiday, a personal injury lawyer from our firm can help you get the compensation you need.
Call 1 (855) 722-2552 to speak with a representative today.