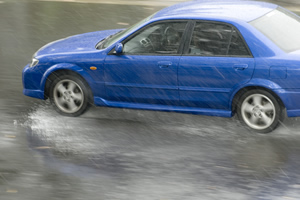 Numerous statistics demonstrate that over six million car accidents occur in the United States each and every year, while nearly 1.5 million of these accidents were weather related. Furthermore, many weather related accidents are often caused by hydroplaning.
Hydroplaning occurs when the water builds up in front of your tires faster than it can be pushed away. This buildup causes your vehicle to lift and slide along the thin layer of water between the roadway and your tires. People who have experienced hydroplaning claim that they lack control of their vehicles steering, brakes, and power, which causes it to drift in one direction.
When a person loses control of their vehicle due to hydroplaning and causes and accident, if their actions were caused by a negligent action, and they inflict harm on an innocent individual, that individual may be eligible to receive compensation for their losses and damages.
At Gordon & Partners, we have great sympathy for injured individuals and their families, as all loved ones often suffer emotionally and financially following an injury or death. Having obtained favorable verdicts and settlements for thousands of clients, our attorneys are prepared to defend your rights and obtain the compensation damages you deserve.
Begin exploring your legal options by calling us at 1 (855) 722-2552 or completing the Free Case Evaluation on this webpage today.
When is Hydroplaning Most Common?
The most dangerous time for hydroplaning occurs during the first ten minutes of light rain. This is due to the rain mixing with oil residue on the roadway causing it to become extremely slippery. It is more common in automobiles traveling over 35 miles per hour.
In the state of Florida, we experience a ton of rain, as we live in a tropical environment; therefore we are put at an increased chance of hydroplaning on our roadways. When this event occurs, there are some things we can do to assist in preventing hydroplaning to our vehicles.
How Do I Prevent Hydroplaning?
As wet pavement caused nearly 13 percent of all fatalities every year, there are certain actions we can take to prevent these types of incidents from occurring to us. These actions include:
Avoid hard braking
Avoid lanes where water may accumulate
Avoid standing water and puddles
Deactivate cruise control
Drive in lower gear
Follow tire tracks of other vehicles
Inflating tires properly
Never make sharp or quick maneuvers
Replacing worn tires
Rotating your tires
Slow speed in wet conditions
Furthermore, by practicing defensive driving techniques, drivers will be able to safely operate their vehicles in all types of conditions. Also, by following all traffic laws, everyone can do their part in reducing auto accidents throughout the state of Florida.
Contact Our auto accident attorneys Today
There is no doubt that auto accidents are one of the most traumatic experiences a person may have, especially if any injuries or deaths were sustained. At Gordon & Partners, our personal injury attorneys are prepared to fight for the rights of all injured in auto accidents and believe that all victims may be entitled to compensation benefits for their injuries and damages.
Located in Palm Beach Gardens, Stuart, and Plantation, Florida, our team is able to serve throughout the entire state of Florida. Some local areas our attorneys serve include, but are not limited to:
Coconut Creek
Fort Lauderdale
Hollywood
Jupiter
North Palm Beach
Pembroke Pines
Pompano Beach
Royal Palm Beach
Sunrise
Wellington
West Palm Beach
Having fought for the rights of our clients, our attorneys are prepared to take your specific case today. Start here by calling 1 (855) 722-2552 or completing the Free Case Evaluation on the top of this page.