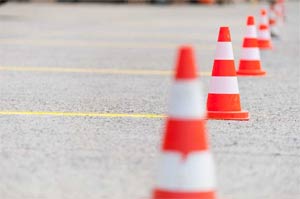 The new interstate 595 warning gates that say Do Not Enter have been hit approximately 105 times since late March when the reversible express lanes opened.
The stretch of reversible lanes between State Road 7 and I-75 has 34 warnings gates and five barriers that are designed to keep drivers from entering the lanes in the wrong direction. Each sign warns drivers to keep out of the lanes. Although the signs are working and no head-on accidents have been reported, plenty of people are running into these gates.
Some drivers say that the gates nearly reach the other lanes of travel, others say that the banner signs flip over in high winds and can be difficult to see at night.
The eastern end of the I-595 westbound lanes were hit most frequently. When the gates are hit, sensors alert the Florida Department of Transportation and the department immediately views what is going on via cameras.
The reversible lanes were created in an effort to help traffic congestion in the area. However, the cost of repairing these gates can be anywhere between $600 to $3,000 funds that could become difficult to cover if they continue being hit.
I-595 is the location of dozens of car accidents each year, hopefully these new gates will help control congestion and decrease the number crashes reported rather than increase them. Drivers should always be on alert of changing road patterns and signs.
If you or someone you love has been injured in a motor vehicle accident, let the car accident lawyers at Gordon & Partners help. A West Palm Beach personal injury attorney from our firm can help you determine if you are entitled to file a claim for damages.
For a free review of your claim, fill out our online contact form or call us at 1 (855) 722-2552.